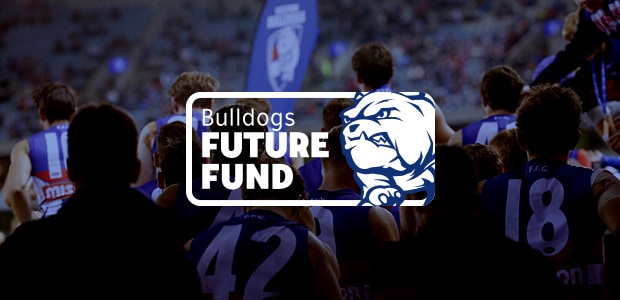 The Bulldogs Future Fund is the Club's overall fundraising collective towards which all Club fundraising initiatives contribute.
An investment in the Club's football future, the Bulldogs Future Fund will help dedicate much needed funds towards infrastructure, football and community projects.
This includes the continued redevelopment of Victoria University Whitten Oval, community programs run in the Club's heartland of Melbourne's West and continued investment in both our AFL and VFL teams to help build a strong and successful on-field future.
By participating in any Club endorsed fundraising campaign, you are contributing towards building the critical infrastructure that we need to develop our future champions and pursuit of sustained success both on and off the field.
The Club wants to ensure all members, as well as our AFL and VFL teams, have the facilities they deserve, and by contributing in any way you can to our fundraising campaigns, you are ensuring the Club is best placed to transform our aspirations into realities.



Receive over $250 of value by purchasing a Bulldogs Gift Book for $100, providing exceptional value in vouchers, contributing to your Club and going into the draw to WIN rare inner-sanctum prizes.

For the very first time, the Western Bulldogs are offering members and fans the unique opportunity to purchase a player's locker and have their name or business included among some of the club's all-time greats.