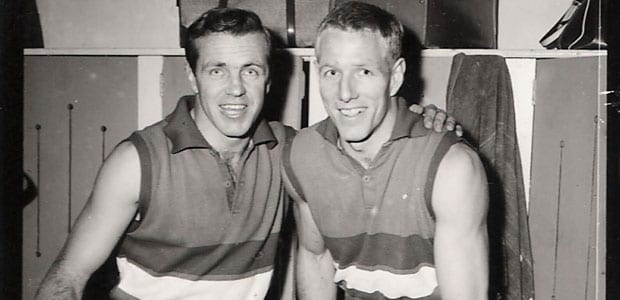 Selected for their exceptional achievements, extraordinary service, exemplary character and the manner in which their profound contribution was made. To maintain the elite status of the Legends, their total number will never exceed 15% of the number of inductees.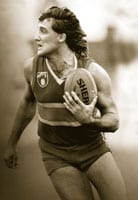 Inducted: 2010
Elevated: 2014
Games: 329 (1978–94)
Goals: 216
Captain: 1990–93
Best and fairest: 1985
Leading goal kicker: 1991
All-Australian selection: 1984, 1986
AFL Hall of Fame inductee (2004)
Footscray-Western Bulldogs Team of the Century (vice-captain/wing)
Footscray-Western Bulldogs Hall of Fame: Inducted 2010
Among the club's most loved players, Doug Hawkins made the outer wing at the Western Oval his own – eventually having it named in his honour. Superbly gifted, and skilled on both sides of the body, he was unbeatable one-on-one and rarely wasted a possession. The 'Hawk' firmly established his reputation as a wingman of class during the 1980s, earning a place in the Victorian state team in 1982, 1984, 1985 and 1989 and the VFL team of the year in 1984 and 1986.

Winning the club best and fairest in 1985 and finishing runner-up on three other occasions, Hawkins' genius was never more evident than during the 1985 finals series but, at his playing peak in 1986, he suffered a serious knee injury. When he returned a year later, it was to a hero's welcome and he displayed all the nous and skill for which he was renowned.

After the tumultuous events of the 1989 Fightback, he relished the role of captain for four years, playing roles at half-back and up forward where he won the club goalkicking in 1991. He broke Ted Whitten's longstanding record of 321 games in 1994, and went on to eventually play what was then a club record of 329 games.

In 2002, he was named as vice-captain and wingman in the Bulldogs' 'Team of the Century' and he was inducted into the AFL Hall of Fame in 2004. An inductee to the Footscray-Western Bulldogs Hall of Fame in 2010, Hawkins was elevated to Legend status in 2014 becoming the fourth player to receive the esteemed accolade.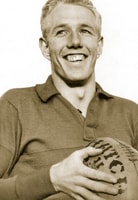 Inducted: 2010
Elevated: 2012
Games: 188 (1958–68)
Goals: 37
Best and fairest: 1960, 1962, 1964, 1965, 1966
Runner-up best and fairest: 1959, 1968
Brownlow Medal: 1960
All-Australian selection: 1961
State selection: 24 games for Victoria
Night premierships: 1963, 1964, 1967
AFL Hall of Fame inductee (1996)
Footscray-Western Bulldogs Team of the Century (back pocket)
There was no better ruckman in the 1960s than John Schultz. He gave the club incredible service over 11 seasons and 188 games, playing a club record 169 consecutive games.
Those who played on Schultz swore he was their toughest opponent. Known as 'Gentleman John' he was scrupulously fair, a fine mark and an exceptional palmer of the ball.
In his first season, Schultz won the club's 'Most Determined' and 'Best First Year Player' awards and was selected to play for Victoria – the first of his 24 appearances for the 'Big V.'
Two years later, in 1960, he won the Brownlow Medal and the first of his record-equalling five club best and fairest awards (equalling the record that had been set by Norm Ware and Ted Whitten before him).
He had an outstanding record in the Brownlow Medal, polling votes in every season and scoring a career total of 111 votes. Schultz also won the club's 'Most Consistent' player award in 1961, 1963 and 1967 and was twice 'Best Clubman', in 1966 he played in the club's second Grand Final appearance and, while a premiership eluded the team that day, he played in Footscray's first three night premierships (1963, 1964 and 1967).
When the E.J. Whitten Stand was built at the Western Oval, one of the five bays was named in his honour. Schultz was selected as the resting ruckman in the back pocket in the Footscray-Western Bulldogs Team of the Century in 2002.
A man of great integrity and humanity, Schultz was further recognised by the club when, in 2011, it named its club 'Community Award' after him (the award being for players, who by their actions, have made a significant contribution to the wider community).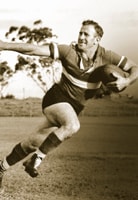 Inducted: 2010
Elevated: 2010
Games: 173 (1942, 1946–56)
Goals: 65
Captain: 1951–56
Coach: 1951–57, 1967–68
Best and fairest: 1950
Leading goalkicker: 1951 (equal)
All-Australian selection: 1950
State selection: 18 games for Victoria
Footscray Football Club President: 1978–81
AFL Hall of Fame inductee (1996)
Western Bulldogs Team of the Century (coach/back pocket)

Epitomising the Bulldog 'never-say-die' attitude on the field, Sutton was one of the most feared players of his era, be it on the half-forward flank, on the backline or roving.
An inspirational captain-coach who led by example, he led Footscray to the club's first VFL finals win in 1953, but the 1954 premiership was his crowning glory, when he built a host of talented players into a champion team.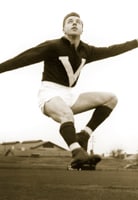 Inducted: 2010
Elevated: 2010
Games: 321 (1951–70)
Goals: 360
Captain: 1957–70 Coach: 1957–66, 1969–71
Best and fairest: 1954, 1957, 1958, 1959, 1961
Leading goalkicker: 1961, 1962, 1964 (equal), 1968
1954 Premiership team: Centre half-back
All-Australian selection: 1956, 1958, 1961
State selection: 29 games for Victoria
Legend in the AFL Hall of Fame (1996)
AFL Team of the Century (capt./centre half-back)
Western Bulldogs Team of the Century (capt./centre half-back)
Whitten played a VFL record 321 games in an inspirational 20 year playing career, captaining Footscray for 212 games, and coaching for 228, with over 12 seasons as playing coach.
Centre half-back for the Club's 1954 premiership; he also coached the team to a Grand Final appearance, in 1961.
Whitten was named captain of both the AFL and Bulldogs' Teams of the Century.