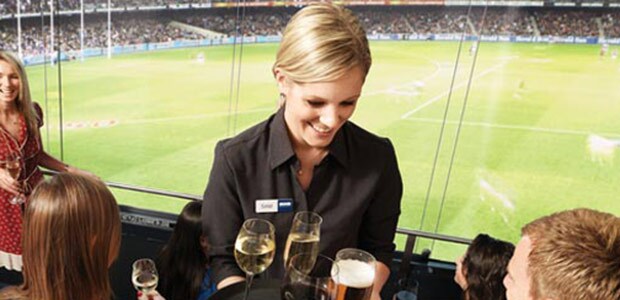 Enjoy all the action from a superb vantage point with theatre-style viewing behind glass in complete comfort.
You can also tailor a menu to your needs, along with premium beer, wine and soft drink served by your dedicated waiter in an exclusive environment for 12 guests.
Before each match a Western Bulldogs listed player* will visit your Corporate Suite to say hello, and update you with all that is happening with the team.
The Corporate Suite package includes:
• Theatre style seating for 12 guests
• Menu tailored to your requirements
• A selection of premium beer, wine and soft drinks
• VIP car parking (two per suite)
• AFL Record (one per two guests)
• Television monitors to view the game from inside the suite
• An experienced host to look after all your requirements
• Self-contained bathroom
• Air conditioned for guest comfort
Rd 20 Western Bulldogs v St Kilda (Sat Aug 4th 7:25pm) – 1 Remaining
Rd 21 Western Bulldogs v North Melbourne (Sun Aug 12th 1:10pm) – 1 Remaining
Rd 22 Western Bulldogs v Carlton (Sun Aug 19th 1:10pm) – 2 Remaining
If you would like further information please contact Jake Summers on (03) 9680 6153 or jake.summers@westernbulldogs.com.au
*Player visits subject to availability and playing demands