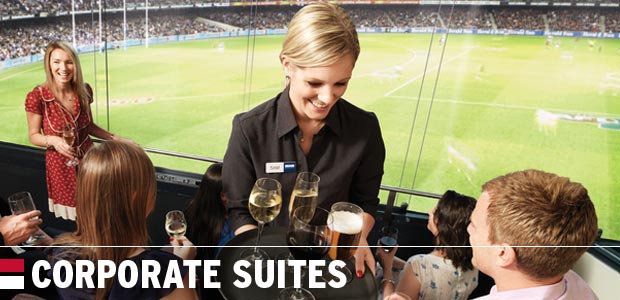 Enjoy all the action from a superb vantage point with theatre-style viewing behind glass in complete comfort.
You can also tailor a menu to your needs, along with premium beer, wine and soft drink served by your dedicated waiter in an exclusive environment for 12 guests.
Before each match a Western Bulldogs listed player* will visit your Corporate Suite to say hello, and update you with all that is happening with the team.
The Corporate Suite package includes:
• Theatre style seating for 12 guests
• Menu tailored to your requirements
• A selection of premium beer, wine and soft drinks
• VIP car parking (two per suite)
• AFL Record (one per two guests)
• Television monitors to view the game from inside the suite
• An experienced host to look after all your requirements
• Self contained bathroom
• Air conditioned for guest comfort
If you would like further information please contact Jake Summers on (03) 9680 6153 or jake.summers@westernbulldogs.com.au.
*Player visits subject to availability and playing demands
Experience Western Bulldogs newly established WB Lounge at Etihad Stadium.
This first class lounge environment, which includes premium canapés, live environment and reserved seating on Level 2, is the the ideal way to watch the footy in style.
Click here for WB Lounge Booking Form.