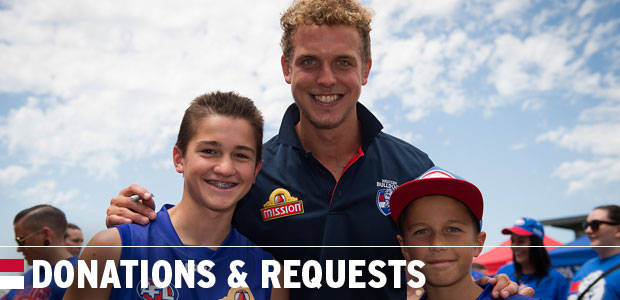 The Western Bulldogs Football Club is inundated with requests each week and as such follows a detailed policy which is thoroughly explained below.
The Club recognises the importance of supporting charities, community groups and not-for-profit organisations in their fundraising endeavours and has a program in place which offers these organisations the opportunity to purchase a 2016 team signed guernsey, football or poster at a specially discounted price.
All items are accompanied with a certificate of authenticity accredited by the AFL Players Association as an official and limited edition memorabilia item.
The Bulldogs Backyard ticketing program provides more than 10,000 tickets annually to various groups throughout the Western Region of Victoria including schools, community groups and not-for-profit organisations.

The complete allocation of Bulldogs Backyard tickets for the remainder of the 2016 AFL Premiership Season have been exhausted. Check back here in early 2017 for opportunities to be part of this program next season.
The Western Bulldogs Football Club is unable to accept any items to be autographed on behalf of outside organisations or individuals. Any items sent to the Club for players or coaches to sign will be returned to the sender unsigned.
Please note, the Western Bulldogs Football Club takes no responsibility for lost or damaged items.
Supporters seeking autographs from players or coaches are encouraged to attend one of the club's open training sessions, family days, clinics or other major club events that are held each year.
The Western Bulldogs Football Club takes great pride in the additional work that our players do within the community and throughout the western region of Victoria.
Each year, all players complete a number of appearances in the community, including schools, junior football clubs, Auskick centres, hospitals and an array of other charity appearances and are unavailable for all additional non-official appearances.
Please follow us on Facebook and Twitter to keep up to date on where our players are in the community.
The Western Bulldogs Football Club is not able to offer financial support, cash donations or sponsorships.
Based on the guidelines above, if you believe the Club can assist in facilitating your request, please click here to complete the Western Bulldogs Request Form.