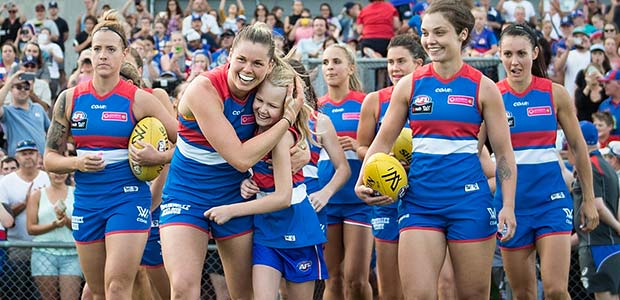 The mission of the Western Bulldogs is "to be the community where people are at their best," and this extends beyond the field, beyond membership numbers and beyond commercial partnerships.
By making an ongoing donation, you can help play a part in providing people living in the west with the tools to succeed, through the Western Bulldogs Community Foundation, as well as building the culture and sustained success for women in football, through the Club's fundraising partnership with the Australian Sports Foundation.
Western Bulldogs Community Foundation
The Western Bulldogs Community Foundation is a registered charity, which was founded by the Western Bulldogs Football Club, that seeks to fulfil the club mission by providing people living in our backyard, the western suburbs of Melbourne and the western region of Victoria, with the tools to succeed. Help us continue to deliver services and programs to over 5,000 people and engage with 500,000+ members of our community, annually across the four streams:
Western Bulldogs AFL Women's
The Western Bulldogs and our community has been a great supporter of the Western Bulldogs AFL Women's team since our first exhibition match in 2013 and the league's first season in 2017. Show your support towards women in football and help the Western Bulldogs become a destination club by:
Investing in research and implementation of sports science, performance and strength & conditioning for sustained success
Building our culture to assist in retaining, growing and attracting people both on and off the field
Development of a wellbeing program and support system for the female players
By making a donation to the Western Bulldogs AFL Women's, you are confirming that your gift is made unconditionally to the Sports Foundation and you agree to their T&Cs and Privacy Policy.
For more information about Regular Giving, please contact fundraising@westernbulldogs.com.au or 1300 46 36 47.