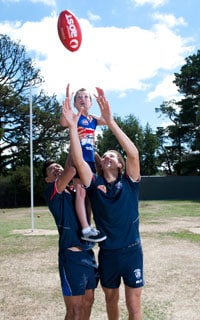 Eight year old Harrison Jeffrey is still pinching himself after the young Western Bulldogs fanatic came face to face with some of his football heroes as part of the Club's Australia Post AFL Community Camp, taking place in Ballarat.
Harrison entered a local competition run via The Ballarat Courier, inviting Western Bulldogs fans to nominate and win their ultimate community camp experience and the St Aloysius Primary School student pulled out all the stops to ensure that the Bulldogs took notice of his entry.
"My Dad signed me up as a Bulldogs member when I was just born and I love going to as many games as I can," said Harrison.
"I said in my entry that I know all the players, their numbers and I record every game and watch it back over and over.
"My dream experience was to meet one of my favourite players, Marcus Bontempelli, and practice my goal kicking and high marks with him and the other players across the road in the park," he went on to say.
"When Mum told me I had won, I couldn't believe that some of the Bulldogs players would actually be coming to my house – I was so excited to meet them and have a kick with them."
Western Bulldogs players, including Harrison's favourite player, Marcus Bontempelli, made a special trip to Harrison's house to surprise the Ballarat youngster and his family.
Australia Post AFL multicultural ambassadors, Lin Jong and Jason Johannisen also joined Bontempelli for the visit.
Harrison's dream community camp experience was an extension of Australia Post's aim in bringing footy fans closer to the game they love and support, particularly those living in regional parts of Australia who barrack for their AFL teams from afar.