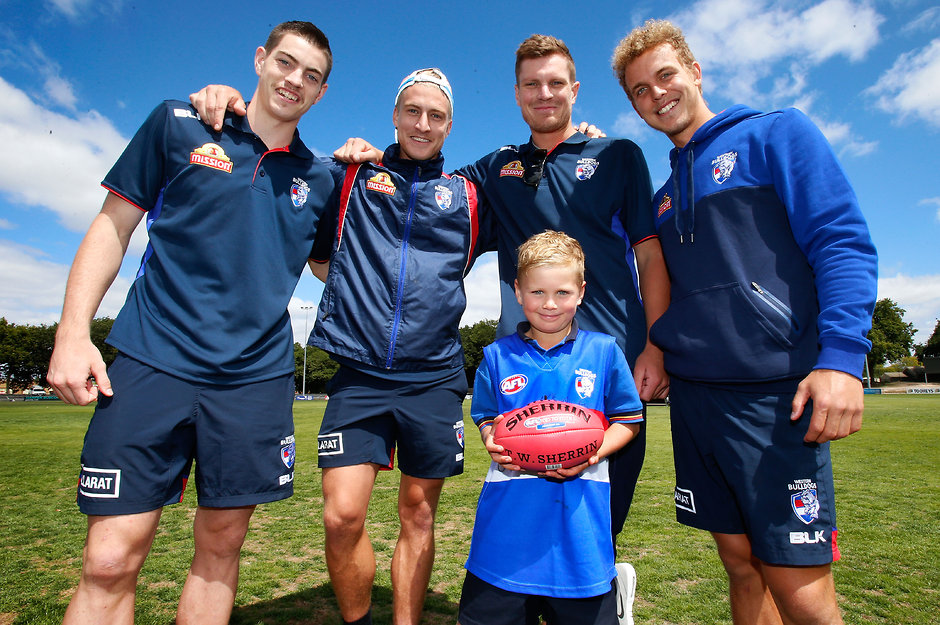 The Western Bulldogs will play for premiership points in Ballarat against Port Adelaide in August next season.

Following today's AFL fixture announcement, it was confirmed that the newly redeveloped Eureka Stadium would play host to the Round 22 encounter in 2017.

The Club entered a partnership with the State Government and City of Ballarat to bring AFL football to the region — by offering a suite of community programs (already underway), to enhance community well-being and engagement, and by playing matches for premiership points at Eureka Stadium from 2017 — which will now become reality in less than ten months.

Bulldogs CEO Gary Kent said today's announcement was a great boost for the game and football fans in the region.

"This is a momentous day for not only our Club, but for the region of Ballarat.

"We have already begun forging a connection with the region through community activities over the past eighteen months, and today our aim of playing for premiership points in Ballarat has become official with the release of next year's AFL fixture.

"While there are enormous opportunities and a lot of work ahead, we would not have arrived at this point without the dedication of a number of our partners, who all shared a vision that this thriving region ought to have access to AFL on their doorstep.

"We are planning to create a great festival atmosphere in Ballarat, that offers more than just a football match, but also an opportunity for our Club to engage with the people of Ballarat through a number of key activities.

"We look forward to making it a success in 2017, and beyond."

Member for Wendouree Sharon Knight and Minister for Regional Development Jaala Pulford said the match in Ballarat would be a much-anticipated event.

"Like all footy supporters, we are counting down the days until the next season but it's fair to say Ballarat is even more excited about the 2017 season and hosting the inaugural Western Bulldogs match," Member for Wendouree Sharon Knight said.

"The Victorian Government, in partnership with the City of Ballarat and the AFL, is looking forward to hosting the Bulldogs next year in Ballarat. This promises to be a win for footy, a win for Ballarat, and a win for the fans," Regional Development Jaala Pulford said.

City of Ballarat CEO Justine Linley said it was an exciting time for the entire Ballarat community.

"Ballarat is thrilled the Western Bulldogs Football Club has whole-heartedly embraced its role in the community. The relationship has been fulfilling - the club has certainly won many friends and fans."

"The City of Ballarat is confident the Bulldogs will have a huge home town advantage at the newly minted Eureka Stadium and Ballarat can't wait to cheer them on."

"The Bulldogs' AFL Premiership Season match in Ballarat is also expected to provide a boost for our city's economy, with fans travelling from across Victoria and interstate to see premiership points being won right here on our city's home soil."

The Club will release Ballarat specific membership products in early December.
Any questions? Click here
var _eCal = _eCal || [], eCalCdnUrl = '//button.ecal.com/', eCalapiKey = 'cc1a805ffc427afd479e884a0e04d3505119de44a89d8'; (function () { var ecalWidgetJS = document.createElement('script'); ecalWidgetJS.src = eCalCdnUrl + 'js/eCal.js?_=' + new Date().getTime(); document.getElementsByTagName('head')[0].appendChild(ecalWidgetJS) })();