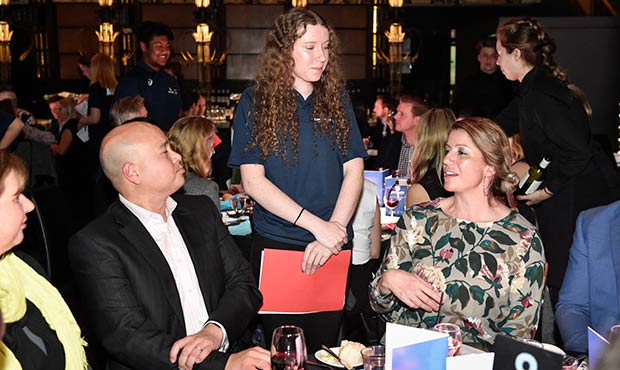 The Western Bulldogs Community Foundation's Leadership Project held their annual Careers Expo last week across three locations at VU Whitten Oval, Portland Civic Hall and Ballarat Town Hall.
This year's expo saw over 60 participants from the Leadership Project come together to gain insight into their desired career path.
Hearing from guest speakers from various fields of interest, participants were granted an inside view to the career path of their choice.
Western Bulldogs Community Foundation General Manager, Kashif Bouns said this year's careers expo was a great way to engage Western Bulldogs Community Foundation Leadership Project students with industry professionals.
"It's great to see our community programs growing each year with overwhelming support from our corporate partners," he said.
"Hearing the students' positive feedback at these events motivates us to continue driving our community programs across the western region of Victoria".
"We hope that the event allowed the students to further develop an interest in their desired field of employment and assisted their understanding of the steps to get there".
Participants from this year's Leadership Project have been working on their community pitch, to be presented during the final weeks of the program.
Wyndham Leadership Project participant, Brandon Rogers wrote to the club about his experiences with the Leadership Project over the past week.
"On Monday the 10th of June, students from the Western Bulldogs Community Foundation Leadership Project spent an entire day at Victoria University Whitten Oval.
"For the first half of the day, students had the opportunity to speak to professionals from different industries. This was a fantastic opportunity for students as, we were able to talk to people from an industry of our interest, increasing our knowledge of an occupation of our choice. It is always good to hear about the diverse pathways that people have experienced, to get where they are.
"After we spoke to four different people about their occupation, our community issue, our project idea for our community issue and our plans for our future, we entered the Bulldogs museum. While we were in the museum we did have the opportunity to continue conversations and begin new conversations with different people who we may not have spoken to before lunch.
"For the second half of the day students from the Leadership Project assisted Western Bulldogs players in running the Dahlhaus Clubhouse clinic. We ran kids through some drills and games before players came out to assist us."
For more information on Western Bulldogs Community Foundation programs click here.