Western Bulldogs president, Peter Gordon, whose strong commitment to legal justice has helped thousands of men and women pursue successful class action claims, has been awarded an honorary degree at a ceremony at Victoria University yesterday.
Gordon was among a trio of Bulldogs to be honoured on the night, with Physical Performance Manager Mathew Inness and Sports Science Research Fellow Alice Sweeting receiving their doctorates in the graduation ceremony held at Flemington Racecourse.
Dr Gordon was admitted to the degree of Doctor of the University Honoris Causa, in recognition of more than 30 years of distinguished service to traditionally disadvantaged clients who would otherwise have been unable to pursue their rightful claims.
His pioneering efforts in mass tort and consumer class action litigation include claims for victims of asbestos cancer, medically-acquired AIDS, sex abuse related to the Catholic Church, faulty breast implants, and more.
Dr Gordon grew up in West Footscray, graduating Dux of St John's College in Braybrook. His passion for legal justice was fostered as a University of Melbourne law student who volunteered with the Williamstown Legal Referral Service. While still a law student, he established the Western Suburbs Legal Service in 1978, offering high quality, free, independent legal advice and representation to western suburbs residents, workers and students.
He joined Slater & Gordon in 1980, becoming a partner in 1989, and a senior partner in 1995. He was its chairman when Slater & Gordon became the first law firm in the world to publicly list in 2007. After resigning from Slater & Gordon in 2009, Dr Gordon established his own legal practice, Gordon Legal.
His work over the years includes:
obtaining the first successful asbestos cancer damages verdict in Australia in 1985 and winning claims for more than 2000 people over asbestos-induced disease;
conducting the world's first medically-acquired AIDS trial against a blood bank in 1990, eventually resolving all 566 medically-acquired HIV cases in Australia;
bringing the first Australian mass legal challenge for sex abuse victims to the tort immunity claimed by the Catholic Church and Christian Brothers Orders;
establishing a pathway for litigants outside the United States to bypass US bankruptcy laws, leading to the first mass settlement against Dow Corning for women injured by defective breast implants;
exposing tobacco company document practices in Australian and American courts as fraudulent. The McCabe case led to law reform in Victoria to prevent abusive corporate destruction of evidence;
representing the Australian Council of Trade Unions and asbestos support group victims in the 2003 James Hardie inquiry, and subsequently achieving a $2 billion settlement with James Hardie for present and future victims;
launching a class action to receive recognition and compensation for Australian and New Zealand thalidomide survivors.
Outside his legal career, Dr Gordon spearheaded the 1989 campaign to fight for the future of the Western Bulldogs' predecessor team – the Footscray Football Club – in his role as the AFL's youngest ever president, serving in the role until 1996.
Upon his reappointment as president in 2013, Dr Gordon helped launch the Club's Sons of the West men's health initiative.
Beyond Gordon's honour, the Club's strong relationship with Victoria University was on display with Bulldogs football department staff Mathew Inness and Alice Sweeting both receiving their doctorates on the night.
Dr Inness is the Club's Physical Performance Manager, while Dr Sweeting is a Research Fellow within the Bulldogs' Sports Science department, a co-appointed role with Victoria University.
Dr Sweeting's studies developed and applied novel data-mining methods which could potentially revolutionise the way athlete tracking data is used in world sport, while Dr Inness' doctoral thesis explored three different applications of altitude training to enhance team sport athlete performance.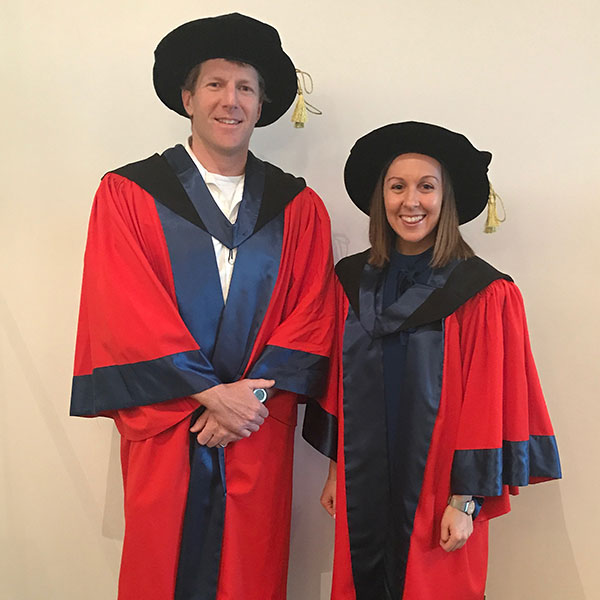 Above [L-R]: Physical Performance Manager Dr Mathew Inness, and Sports Scientist and Research Fellow
Dr Alice Sweeting were both presented with their doctoral degrees at a ceremony on Wednesday.