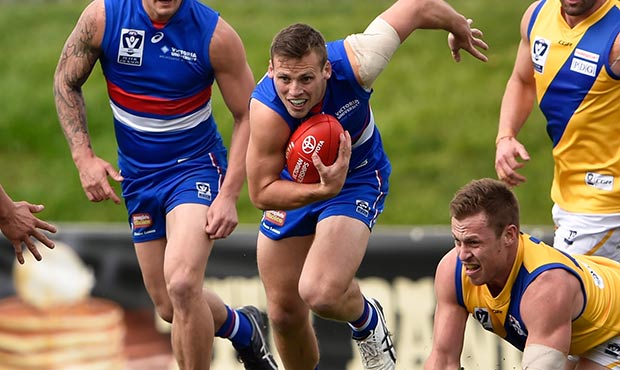 Footscray have gone down to minor premiers Williamstown by 43-points in their final round clash at Victoria University Whitten Oval on Saturday afternoon.
It was a tightly fought first half of football, inaccuracy hurting the Gulls', kicking 5.9 for the half.

Opposingly Footscray delivered some straight shooting with four goals and just the one point to sit just 14-points shy of the visitors at the main break.
The second half was a different story, Williamstown taking control of the game in the third term kicking six goals to one, the margin proved too big for a Dogs comeback.
Will Hayes was the leading ball winner for Footscray with 24 disposals and one goal, whilst Mitch Honeychurch and Mitch Wallis were prominent for the Dogs with 23 touches to their names.
Josh Prudden stepped up in the final term kicking a goal and finishing with 19 disposals.
Captain Jordan Russell was strong down back for the Scray', collecting a team high 17 marks.
Tom Boyd kicked things off for the Dogs with a set shot goal from 40 out. This was closely followed by a goal from Billy Gowers.
Williamstown settled themselves with a goal halfway through the term. Then went on to kick another two.
Whilst the Dogs finished the quarter with a goal from Andrew Tashevski-Beckwith to see them head into the first break trailing by three points.
Clay Smith opened the second term with a goal to put the Dog's back in the lead.
The second half of the term saw the Seagulls respond with two goals of their own to widen the margin to 14 points heading into half time.
The Seagulls took control of the game in the third term, kicking six goals to one to extend their lead to 43-points.
Williamstown diminished any chance of a Footscray comeback, kicking three goals early in the final quarter, the margin blowing out to 63 points.
After a flurry of goals for the Seagulls in the final term, Will Hayes sparked some life for the Dog's with a late goal for Footscray. This followed by two more goals from Nick Jamieson and Tory Dickson, the Dogs fighting right until the end but it didn't prove enough.
Footscray will quickly put the loss behind them now, focussing on their must-win Elimination Final against Essendon at North Port Oval on Sunday.
Footscray Bulldogs 3.1 (19) 4.1 (25) 5.6 (36) 8.10 (58)
Williamstown 3.4 (22) 5.9 (39) 11.13 (79) 14.17 (101)
Goalkickers: W. Hayes, J. Prudden, C. Smtih, T. Dickson, B. Gowers, A. Tasheveski-Beckwith, T. Boyd
Disposals: W. Hayes 24, M. Honeychurch 23, M. Wallis 23, J. Russell 20, J. Prudden 19, K. Collins 17, N. Jamieson 17, C. Smith 17, T. Dickson 16, F. Roberts 16
Best: J. Prudden, W. Hayes, K. Collins, T. Short, J. Russell, F. Roberts