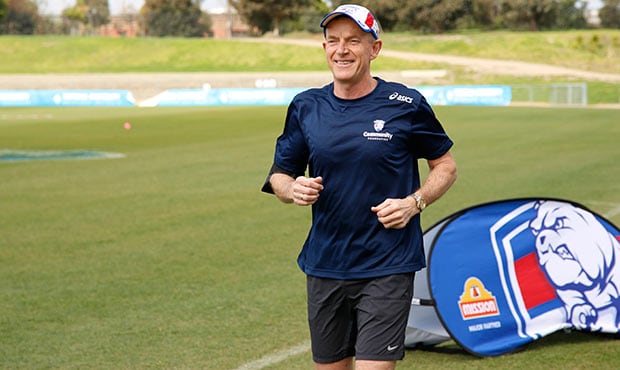 Western Bulldogs CEO Gary Kent completed a half marathon across the Maribyrnong and Hobsons Bay area last week as part of the Melbourne Marathon, in support of the Western Bulldogs Community Foundation.
Raising funds to support the Community Foundation's programs, Kent completed the 21.1 kilometres in 1 hour and 55 minutes.
As he returned to VU Whitten Oval, Kent spoke to westernbulldogs.com.au about his motivations toward completing the half marathon.
"The demand for our programs is growing, fueled by the population growth in the west of Melbourne," he said.
"We need support to continue to provide our existing programs and to extend our reach to more people who need our help.
"We're incredibly proud of our community programs and aim to support them in any way possible.
"We really encourage our supporters to take the challenge and run alongside Team Bulldog in this year's Melbourne Marathon," he said.
To donate to the Western Bulldogs Community Foundation, click here.
Sons of the West participant, Jonathon Manallack is also participating in the Melbourne Marathon, combatting the 10km walk – a distance he never deemed possible before joining Sons of the West.
Losing an impressive 40 kilograms since his arrival at Sons of the West in 2014, Jono has remained an integral part of the program through acting as a leader for new participants.
Jono has made it his aim to complete the event in under 2 hours.
"I am honoured to be a part of this amazing race to help a great cause," Manallack told westernbulldogs.com.au.
"I feel that it's time that I gave back to the program that over the past four years, has helped save my life and got me to the point where I can now attempt to walk this distance," he said.
Join Team Bulldog today in four easy steps:
Step 1 – Register here and choose from one of these events
3km Walk, 5.7km Run, 10km Run, 21.1km Half Marathon, 42.195 Marathon
Complete registration
◦Select "Another Charity not listed here" in the "Who will you be fundraising for?" section
◦Enter "Western Bulldogs Community Foundation" in the "Which charity will you be fundraising for?" section
◦Select "Team Bulldog" in the "Select a Team" drop down list
Step 2 –Set up your online fundraising page here.
Select "Start Fundraising"
Find "Western Bulldogs Community Foundation" in the "Select a Charity" section
Complete the GoFundraise registration
Fundraise as an individual or as a team
To be eligible for the Team Bulldog Racer Kit and Rewards you must be registered on the GoFundraise site and selected "Western Bulldogs Community Foundation" as your chosen charity.
Step 3 – Personalise your Melbourne Marathon fundraising page
Step 4 – Keep an eye on your inbox for updates from the Western Bulldogs Community Foundation
For more information or questions contact foundation@westernbulldogs.com.au. If you wish to donate, click here.