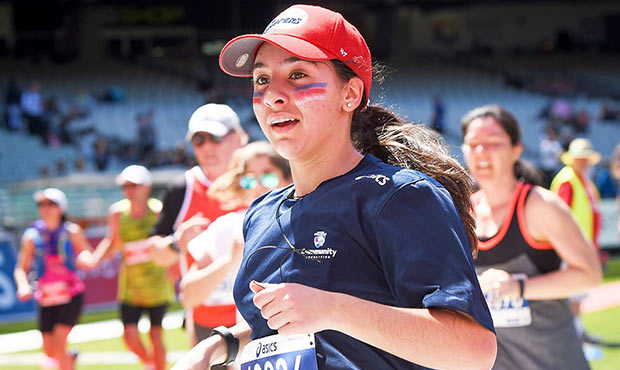 Team Bulldog impressed at this year's Melbourne Marathon with 120 participants wearing the red, white and blue - running to raise funds for the Western Bulldogs Community Foundation.
Raising over $35,000 for the Foundation's programs, Team Bulldog had a presence in each race on the day, with 39 participants competing in the 5.7-kilometre race.
Team Bulldog were a stand out in the half marathon, with 14 team members completing the 21km event, including the female winner, Makda Haji.
Makda Haji completed the half marathon in 1 hour and 10 minutes.
Fleeing from Ethiopia to seek refuge in Australia in 2015, Makda was introduced to the Club following her participation with Western Bulldogs Community Foundation partner, African-Australian Multicultural Employment and Youth Services. Now living in the heart of Footscray, Makda has previously won numerous international marathons and half marathons, including the Sydney Marathon women's title earlier this year.
Western Bulldogs Community Foundation General Manager, Kashif Bouns said that the Foundation strives to assist participants in reaching their full potential.
"The Western Bulldogs Community Foundation works closely with new and emerging communities in Victoria's west and prides itself in supporting individuals like Makda in achieving their potential," he said.
"We are thrilled with the amount of support shown by our program participants and partners at this year's Melbourne Marathon and look forward to growing Team Bulldog in the future."
Also competing the half marathon for Team Bulldog was Community Foundation supporter and White Ribbon Ambassador, Simone O'Brien.
Previously unable to walk after suffering multiple injuries as a result of domestic violence, Simone's ability to compete the 21km event was nothing short of amazing.
The Western Bulldogs Community Foundation would like to thank all members and supporters of Team Bulldog for further supporting our community programs – Sons of the West, Daughters of the West, The Leadership Project and Ready Settle Go.