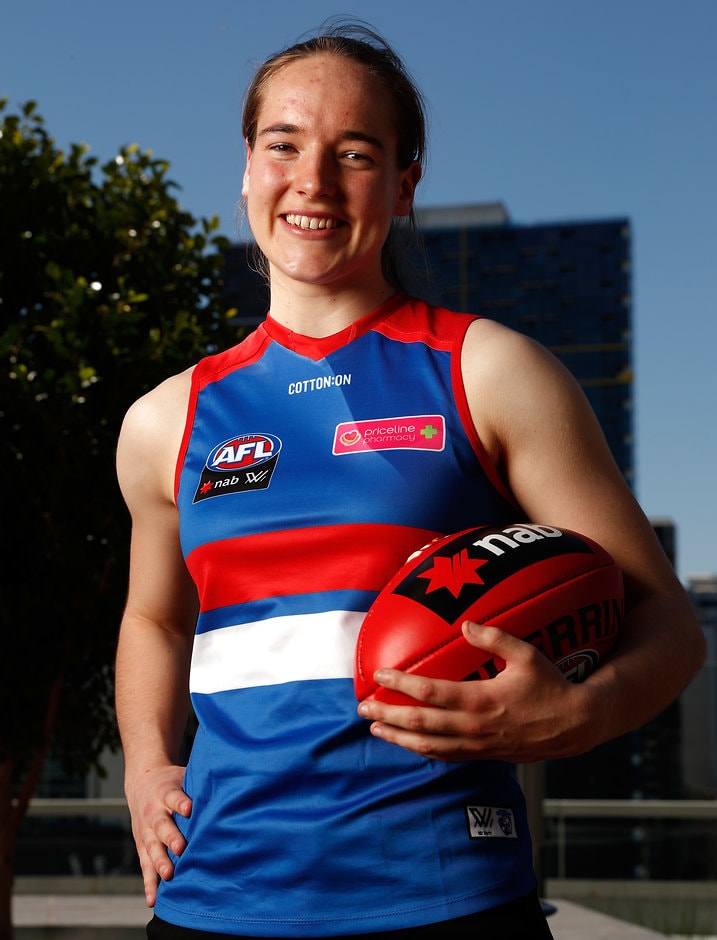 It was the night that women's footy shot its way into the consciousness of the Australian public.
The Victoria University Whitten Oval terraces were stacked for the now famous 2016 All-Stars exhibition match but it was the TV viewership that was staggering. 387,000 viewers in Melbourne alone tuned in to see the best the women's game had to offer, 56,000 more than watched the Dreamtime at 'G' blockbuster in May.
For many it was a celebration, but for one player the night was very nearly a disaster. During the U/18 curtain raiser, Isabel Huntington tore her ACL, just a year after breaking her leg.
But anyone thinking that they may have witnessed a promising career cut short before their eyes doesn't know 'Izzy.'
With her eyes firmly on a career in medicine after football, she simply took the injury for what it was.
"If there was a year I was going to do my ACL, year 12 was probably a good one, as strange as that sounds," she told Fox Sports in August.
Fast forward a couple of months and Huntington's name was called out as the first pick overall in the 2017 NAB AFLW Draft at the Docklands.
She'd apparently done enough to be still considered the number one prospect in the country according to the Western Bulldogs but for coach Paul Groves, the selection was as much about character and leadership as it was about just football ability, although she has that too. In spades.
Huntington has spent the past twelve months splitting time between her studies and her rehabilitation, including a stint training with her new Bulldogs teammates Ellie Blackburn and Emma Kearney at VFLW club Melbourne University.
"I was almost at 100 per cent training with Melbourne Uni before they got kicked out of the finals," Huntington said.
"It was amazing, I've never enjoyed training so much."
If that sounds like a full dance card, you'd be right, the AFLW draft was held just two weeks before her VCE exams began St. Michael's Grammar School, but the full schedule seems to act as fuel for the extraordinarily mature 18-year-old.
"I try to make sure I've always got something to do, it makes me more productive," she told The Age last week.
"It ensures that I don't procrastinate too much, which is the devil if you're a VCE student.
"I've always wanted to play AFL, but I'm also really interested in pursuing a career as a doctor."
A lot's happened in the 14 months since that the Bulldogs and Melbourne faced off in that now famous all-star game, and with the women's growing at a rapid rate, unsurprisingly Izzy is already preparing for what's next.
"I want to get straight into it because say in five years' time the AFLW could be almost completely professional," Huntington said.
"It would really limit how much everyone could do in terms of their careers. So if I can try and knock out a few years now I think that would be best."
The Western Bulldogs AFLW team will begin pre-season training on November 20.