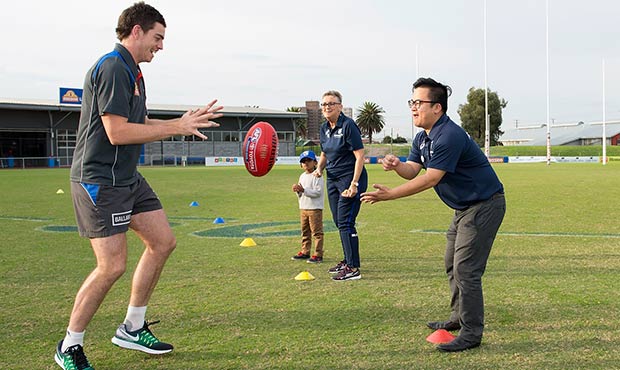 The Western Bulldogs Community Foundation's CALDplay sports program has almost finished for 2017, with the Term 4 Gala taking place on Thursday 30th November.
Delivered across three locations during Term 4, the Lacrosse CALDplay program reached over 160 participants from Wyndham, Brimbank and Maribyrnong.
Assisting over 100 participants each term, drawn from AMES and Community Centres across the West, the CALDplay sports program allows participants to develop sporting skills over an eight-week period.
By participating weekly in sport, participants gain a better appreciation and understanding of the sport's rules and structure, while supporting them to maximise language proficiency and enjoy engagement in their new community.
Each program is delivered on a sustained model of engagement with new arrivals (minimum six weekly sessions per sport). The program acts to build trust, awareness, appreciation, understanding and skills for each sport, while enabling participants to develop social skills.
Participants from this term's CALDplay program are invited to participate in the Lacrosse Gala – run at both Yarraville Oval and Soldier Reserve, Werribee on Thursday 30th November.
For more information about the CALDplay sports program, visit westernbulldogs.com.au/foundation