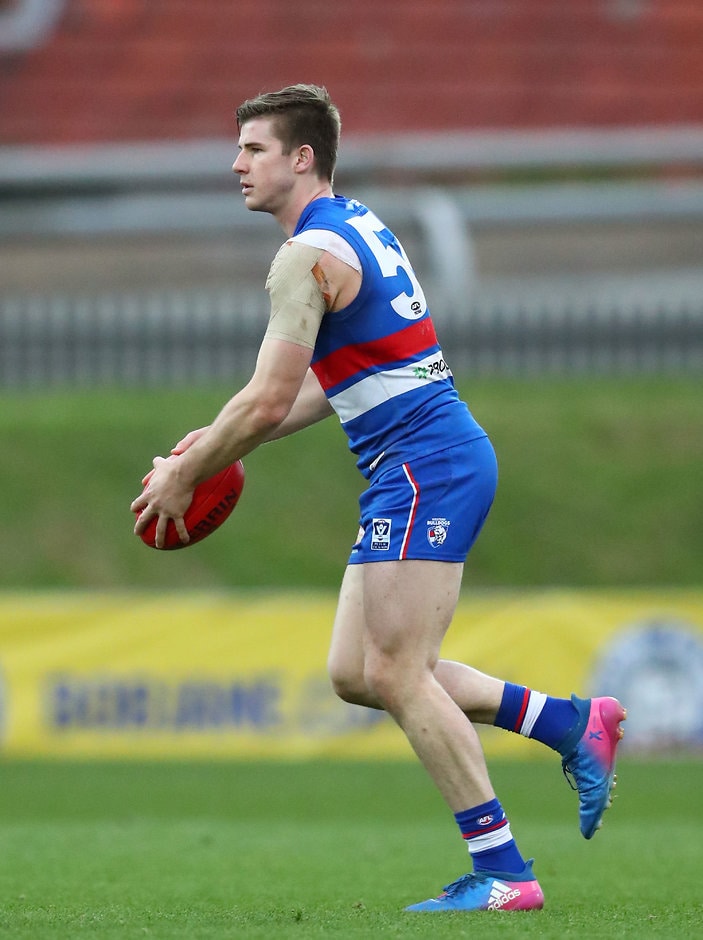 Taken with pick 6 by Carlton in the 2015 rookie draft, Billy Gowers' time at the Blues lasted just two years without making a senior appearance. After going back to VFL level in 2017 and joining Footscray, the 21-year-old enjoyed a stellar season, culminating in a second chance at AFL level, with the Western Bulldogs offering him a lifeline at Monday's rookie draft. He sat down with AFLPlayers.com.au to discuss his journey.
When I first called you to discuss the interview, it went through to your voicemail and I heard you say that you worked for VicProp?
Yeah, that's the one. I've been doing residential leasing in the city on Queen Street.
When did you secure work there?
A week after I got delisted last year from Carlton the opportunity came about. Going straight into it was really handy.
Clearly, you must have been on cloud nine on Monday when your name was called in the rookie draft by the Western Bulldogs. Where were you when you found out?
I was actually at the club because I had VFL training that night. I had surgery about three or four weeks ago so I was just doing some rehab work on Monday night which is why I was there. When my name was called, I was in a room with some of the development coaches and a couple of VFL boys.
So you had committed to play for Footscray again if things didn't pan out?
Definitely. I was rapt with what the club was about last year and really enjoyed my time. I re-committed and was excited for the year, no matter what happened.
Did you have an inkling that you were a chance to be selected?
I knew they were interested, but they kept their cards pretty close to their chest in the last few weeks and right up until the announcement. Not knowing if it was going to happen or be a definite, I was doing my research and trying to find things out from my manager. Because I hadn't been told anything it was a pretty nerve-racking experience but super exciting at the same time.
And you were just watching it on the TV at the footy club? How did that process work? Did someone from the footy club come in and stop you from doing the rehab?
I spent the whole day at work, then I went into the club and did rehab work and weights prior to the draft. After that I sat in the room with some of the coaches and my teammates from the VFL and we watched on the big screen. Unfortunately, the internet was down so when we refreshed, all of a sudden there were seven or eight names selected. We refreshed again and there was another three picks. When my name was up there everyone in the room erupted and it was amazing.
Wow. So you only found out when you saw your name up on the screen?
Yeah! It was the exact second it was announced.
And outside of those in the room, who was the first person you contacted?
I had a fair few missed calls on my phone already that I had to get through, but the first people I called were my parents. One of my grandparents was in the car with them so they were the first to be told.
You had a good year at Footscray in 2017, tell me what it was like leaving the AFL environment at the end of 2016 and going back through the VFL… did you think you were a chance of getting back on a list?
The reasoning in terms of going to Footscray was because I really wanted to play AFL again, and I thought that they were the best fit. I also thought that I was a good fit for them, and that their playing group was a super exciting one to play with. I was excited at the prospect of playing VFL again, but it was also about getting back to enjoying my football again. I started to have a lot of fun while playing and actually looked forward to gameday and training.
You mentioned your manager before, and I know you're with Connors Sports, how hands-on are they when you get delisted and you're looking for other opportunities?
They've been huge. Not just with the football side of things but more with work and those opportunities. I was talking with Paul and Melissa about what's going to be best for my footy as well as my lifestyle and my life. We talked about living circumstances and finances and basically everything. It was a real holistic approach.
What was the balancing act like between working full-time in real estate and playing VFL?
It was difficult training three nights a week and playing, but I was lucky to have a supportive workplace at VicProp. They allowed me to leave work early Monday, Tuesday and Thursday, and I didn't have to do any work on Saturdays which is game day for real estate as well as football. I made it clear that football was my priority and I wanted to get back to the highest level, but I also didn't want it to ruin the experience of working full-time. Working 9-5 as well as being super tired and getting home at 10pm and having to get up at 7am the next morning does tire you out. But it'll hold me in good stead for the rest of my AFL career in terms of time management and life experience.
And you're looking at still doing one day a week in real estate while you're on an AFL list?
I'm not sure whether it'll be at VicProp, but I am looking to stay in real estate and potentially into the commercial side of things. I've obviously been in residential real estate for the last year and I've really enjoyed my time at VicProp, but it might be time for me to move on and try different things.
How did you know that real estate and property was something you wanted to get into once your time at Carlton came to an end?
I had some serious and tough conversations with people close to who have helped me out throughout my life. They supported me and told me to move on and explore options and that led to me having some meetings with some real estate agents that were connections I'd made through the Old Xaverians, which is my old school. I felt that was the industry for me because I was interested in that space, and I still am.
To read the remainder of Billy's chat with AFL Players, click through here.