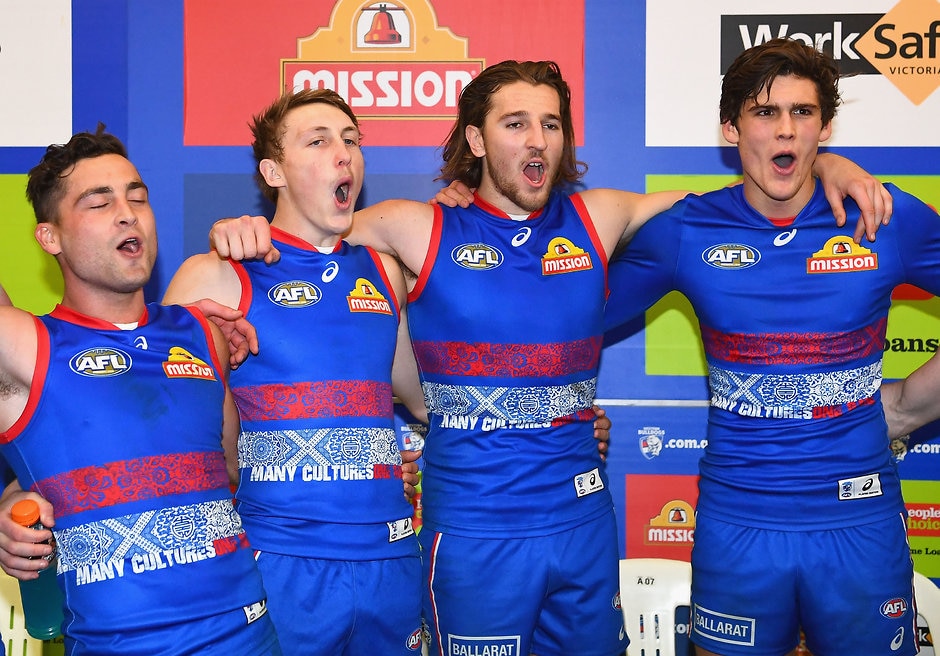 The Western Bulldogs will go into the 2018 season with the fifth youngest list in the competition it's been revealed after final playing lists were finalised this week.
With veterans Robert Murphy, Matthew Boyd and Travis Cloke retiring, the Dogs average age in Round 1 will be 23.72, with only St.Kilda (23.55), North Melbourne (23.42), Brisbane (23.28) and Gold Coast younger.
And when the Dogs run out to face the Giants in Canberra in Round 1 next season, the average number of games played will be just 56, with only three teams boasting a lower number.
This despite only seven teams having a list that has played more finals.
The Dogs do, however, boast the competition's third-oldest player in evergreen defender Dale Morris. The former Rookie will be 35 in December and is set to break through the 250 game barrier next season, the 12th Bulldog in history to do so.
Summary of 2018 AFL club lists
CLUB
AVERAGE AGE (YEARS, DAYS)
AVERAGE GAMES
FINALS
100+ GAMES
YET TO DEBUT
FROM OTHER AFL CLUBS

ADEL

Adelaide
24
192
68
165
14
13
10

BL

Brisbane Lions
23
128
54
65
9
11
12

CARL

Carlton
23
244
56
56
7
8
19

COLL

Collingwood
24
98
68
116
13
10
12

ESS

Essendon
23
355
58
63
9
9
11

FRE

Fremantle
23
292
63
144
13
12
8

GEEL

Geelong
24
95
65
209
13
12
10

GCFC

Gold Coast
23
22
60
31
7
9
10

GWS

Greater Western Sydney
24
16
64
143
10
11
11

HAW

Hawthorn
24
179
74
265
17
9
11

MELB

Melbourne
23
335
57
44
8
9
12

NMFC

North Melbourne
23
117
52
107
10
11
9

PORT

Port Adelaide
24
50
73
109
17
10
13

RICH

Richmond
23
255
62
114
11
8
8

STK

St Kilda
23
201
53
32
10
10
13

SYD

Sydney
23
343
66
303
11
12
4

WCE

West Coast
23
282
64
169
15
16
8

WB

Western Bulldogs
23
259
56
129
9
7
6
AVERAGE
23
338
62
126
11
10
10