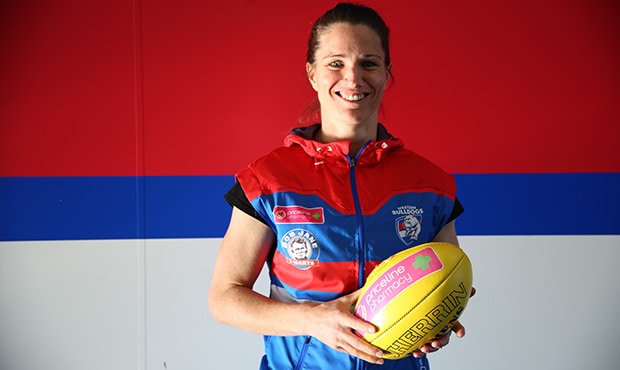 EMMA Mackie represented Australia at the 2009 cycling world championships. Eight years later, she was drafted by the Western Bulldogs as a 33-year-old.
It's an exceptional story. The tough midfielder (no relation to Geelong triple premiership defender Andrew Mackie) grew up in a country New South Wales town close to the Victorian border and played alongside boys up until she was 14 with the Jindera Bulldogs, going against older males in the under-17s.
"I don't know how I got away with doing it," Mackie told AFL.com.au.
Probably because she was so good – Mackie has a best and fairest from her junior career playing alongside the boys.
Sports-mad as a girl, that love affair continued into adulthood, even after she retired from cycling in 2012 and moved to Melbourne for work. Looking for something else to challenge her after a break from the bike, she read a newspaper article about the explosion of women's football.
Her motivation was reignited and she figured joining a football club was an easy way to meet new people and regain fitness.
She signed with the Port Melbourne Colts in 2014 in the South Eastern Women's Football League. When the NAB AFL Women's competition took off, Mackie looked on enviously. She knew she was good enough for the elite level. First though, she had to put herself in a position to succeed.
"I'm a little bit older, so I just thought, 'You know what, I've got to try it now and I've got to do everything I can to get drafted now'," Mackie said.
Playing in the Victorian Women's Football League would give her greater chance of being drafted so she joined Box Hill for 2017. The Hawks won just three games but she thrived, winning the best and fairest.
On the night Mackie collected the award, she spoke to David Mirra, who was a former captain of Box Hill's VFL team. He no longer is, having been recruited as a rookie by Hawthorn last month. However, that only came after years of heartbreak, so Mirra was well placed to give advice.
"If you don't get drafted, don't let that define you. You can still have a good VFL career," Mirra told Mackie.
Mackie would have been fine if she wasn't selected. Her resilience has always been a strength. In the couple of years after graduating from Albury High School, she packed up her Hyundai Getz with all her belongings and drove up to the Queensland Academy of Sport in Brisbane to pursue her cycling career.
It was a totally different experience for someone who grew up on a farm.
"One of my first comments to [my best friend] was how many lanes there were on the highway, when they had a four-lane highway," Mackie said.
Despite being in a foreign environment, she loved the experience. Success on the Australian scene soon brought on a move to Europe.
That was tough. She effectively had to start all over again, competing against far stronger athletes.
Eventually, she improved and rode in the 2009 road world championships, where Cadel Evans won the men's title.
Then in 2010, when Mackie was preparing to travel to Dubai for a World Cup event with the Australian team, she was one of more than 100 people in Albury to be diagnosed with salmonella poisoning after eating contaminated aioli at a burger restaurant. Mackie lost 5kg in the first week of her illness and was intermittently sick for three months.
"My housemate at the time thought I was dying, because all I did was sleep," Mackie said.
Coming through those experiences will help Mackie at the Dogs, who drafted Mackie with the 27th selection in October's NAB AFLW Draft.
She's already preparing for life after playing, having done a level two coaching course.
Mackie knows her on-field career won't be long but she's excited to call herself an AFLW footballer, and will not waste her opportunity.
"I know it's probably going to be a short time, but just to be a part of it is awesome," Mackie said.
The views in this article are those of the author and not necessarily those of the AFL or its clubs