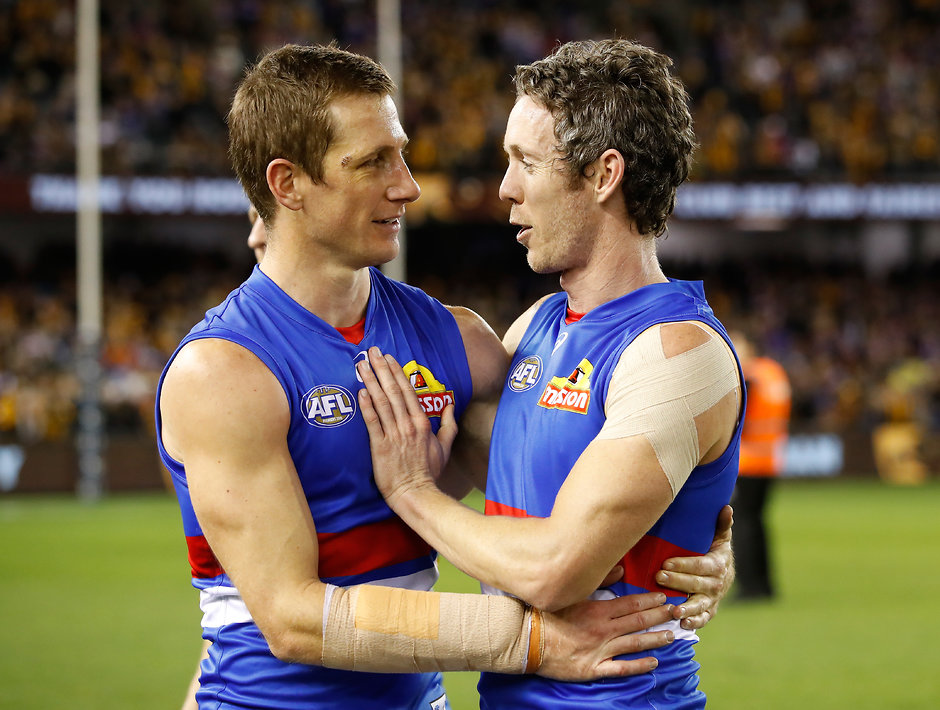 When Robert Murphy and Matthew Boyd retired at the end of the 2017 AFL season, it left long-time Bulldog defender Dale Morris as the longest tenured Bulldog by some margin, only Liam Picken and Easton Wood debuted within four years of the former Rookie.
But ask the 241-game veteran whether that means he feels any additional responsibility, he demurs, backing his younger teammates to fill any leadership void left by Murphy and Boyd's departures.
"My responsibilities haven't really changed, I'll just keep doing what I am doing, and do what I do, leadership wise," he told westernbulldogs.com.au.
"Whatever that is, whether it's on the field or off the field, the opportunity is there for other guys to step up and show their leadership style."
Prior to the pre-season getting officially underway, Dogs coach Luke Beveridge put to the 35-year-old that it might be time to step out of the Leadership Group to allow some of his younger teammates to learn the ropes, and in typical 'Moz' style he agreed with little fuss.
"Bevo and I had a chat coming into this pre-season about the Leadership Group and my role specifically, and it was a really good discussion," he said.
That's the great thing about Bevo, he's very honest and he'll have those, what could be tough, conversations with you because it's for the greater good .
"We had a chat about it and agreed that it's probably a good opportunity to step aside and play a different sort of role within the team and that would be helping the other guys, mentoring them and having a different sort of influence on the group rather than being in the leadership group."
In November, the club announced that Easton Wood would captain the group in 2018, with Marcus Bontempelli as his deputy, and Lachie Hunter, Jack Redpath and Jason Johannisen nominated as leaders for the first time.
It'll be the first time in a while that he won't have an official role but if anyone fits the old cliché that you don't need a title to be a leader, it's Morris.
"I have always said whether I'm in a leadership group or not I still consider myself a leader and will continue to do what I do, which means I won't be in the one hour leadership group meeting but I will be there to help the next crop coming through and hopefully be someone that the guys in there can lean on."
So as the young Bulldogs grow into their new roles, who better to have in their corner than Morris.
"We don't want the next Robert Murphy, we don't want the next Matthew Boyd, we want the first Lachie Hunter, Woody and Bonti are stepping up, we want the first Jordan Roughead to step up and help fill that void, so it's going to be exciting to see what unfolds."