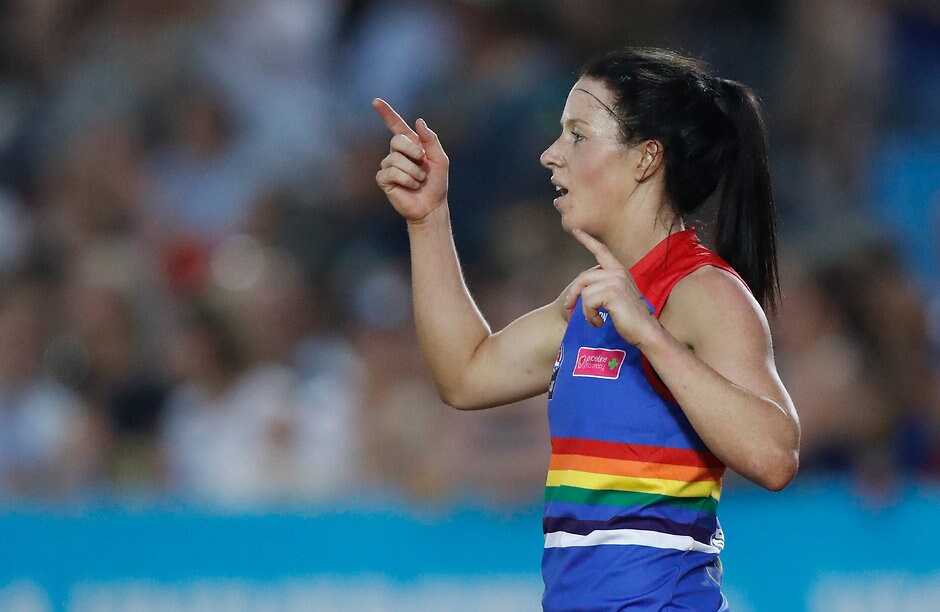 Bulldogs livewire wins AFLW MVP of the Week - AFL Players     window._wpemojiSettings = {"baseUrl":"https:\/\/s.w.org\/images\/core\/emoji\/2.2.1\/72x72\/","ext":".png","svgUrl":"https:\/\/s.w.org\/images\/core\/emoji\/2.2.1\/svg\/","svgExt":".svg","source":{"concatemoji":"http:\/\/www.aflplayers.com.au\/wp-includes\/js\/wp-emoji-release.min.js?ver=bbfadc0d2be6c218dfd3892a5a5ab9f4"}}; !function(a,b,c){function d(a){var b,c,d,e,f=String.fromCharCode;if(!k||!k.fillText)return!1;switch(k.clearRect(0,0,j.width,j.height),k.textBaseline="top",k.font="600 32px Arial",a){case"flag":return k.fillText(f(55356,56826,55356,56819),0,0),!(j.toDataURL().length<3e3)&&(k.clearRect(0,0,j.width,j.height),k.fillText(f(55356,57331,65039,8205,55356,57096),0,0),b=j.toDataURL(),k.clearRect(0,0,j.width,j.height),k.fillText(f(55356,57331,55356,57096),0,0),c=j.toDataURL(),b!==c);case"emoji4":return k.fillText(f(55357,56425,55356,57341,8205,55357,56507),0,0),d=j.toDataURL(),k.clearRect(0,0,j.width,j.height),k.fillText(f(55357,56425,55356,57341,55357,56507),0,0),e=j.toDataURL(),d!==e}return!1}function e(a){var c=b.createElement("script");c.src=a,c.defer=c.type="text/javascript",b.getElementsByTagName("head")[0].appendChild(c)}var f,g,h,i,j=b.createElement("canvas"),k=j.getContext&&j.getContext("2d");for(i=Array("flag","emoji4"),c.supports={everything:!0,everythingExceptFlag:!0},h=0;h         var _sf_startpt=(new Date()).getTime() (function(url){ if(/(?:Chrome\/26\.0\.1410\.63 Safari\/537\.31|WordfenceTestMonBot)/.test(navigator.userAgent)){ return; } var addEvent = function(evt, handler) { if (window.addEventListener) { document.addEventListener(evt, handler, false); } else if (window.attachEvent) { document.attachEvent('on' + evt, handler); } }; var removeEvent = function(evt, handler) { if (window.removeEventListener) { document.removeEventListener(evt, handler, false); } else if (window.detachEvent) { document.detachEvent('on' + evt, handler); } }; var evts = 'contextmenu dblclick drag dragend dragenter dragleave dragover dragstart drop keydown keypress keyup mousedown mousemove mouseout mouseover mouseup mousewheel scroll'.split(' '); var logHuman = function() { var wfscr = document.createElement('script'); wfscr.type = 'text/javascript'; wfscr.async = true; wfscr.src = url + '&r=' + Math.random(); (document.getElementsByTagName('head')[0]||document.getElementsByTagName('body')[0]).appendChild(wfscr); for (var i = 0; i < evts.length; i++) { removeEvent(evts[i], logHuman); } }; for (var i = 0; i < evts.length; i++) { addEvent(evts[i], logHuman); } })('//www.aflplayers.com.au/?wordfence_lh=1&hid=C4BB7C7FDA8BA93686B0C6FA7D780524'); jQuery.post("http://www.aflplayers.com.au/wp-admin/admin-ajax.php", { action: "wmp_update", id: 30175, token: "69fee1a211" });     $(function () { if ($(".rslides").size() > 0) { $(".rslides").responsiveSlides({ auto: true, speed: 2000, maxwidth: 1140 }); } });          
Following her record-breaking seven-goal haul in the inaugural AFL Pride game, Brooke Lochland has been crowned the Round 4 AFLW MVP of the Week, presented by Gloria Jean's.
Lochland made the most of a depleted Carlton backline at the Whitten Oval last Friday night, kicking seven goals and collecting 17 disposals in a triumphant 73-point win. The Bulldogs' score of 12.14 (86) was the highest ever recorded in an AFLW game.
The livewire forward claimed 51 per cent of the fan vote, holding off the Brisbane Lions' Jessica Wuetschner (38 per cent) and Alicia Eva, who finished in third place after becoming the first player to be nominated twice this season.
The AFL Players' Association has partnered with Gloria Jean's to stage the prestigious AFLW Players' MVP Award at the end of the season, and the AFLW MVP of the Week, a new concept that provides the fans with the opportunity to vote for the best performer of the round.
Fans will get the choice to select the MVP of the Week, after the three names have been put forward by the AFLPA. Stay tuned, as the next batch of nominees are announced following Round 5 action.
Gloria Jean's is the official coffee partner of the AFL Players' Association and the proud sponsor of the 2018 AFLW MVP Awards, including the AFLW MVP of the Week competition. Each weekly entrant will receive a 2-for-1 coffee voucher to visit your local Gloria Jeans.
Full story at aflplayers.com.au