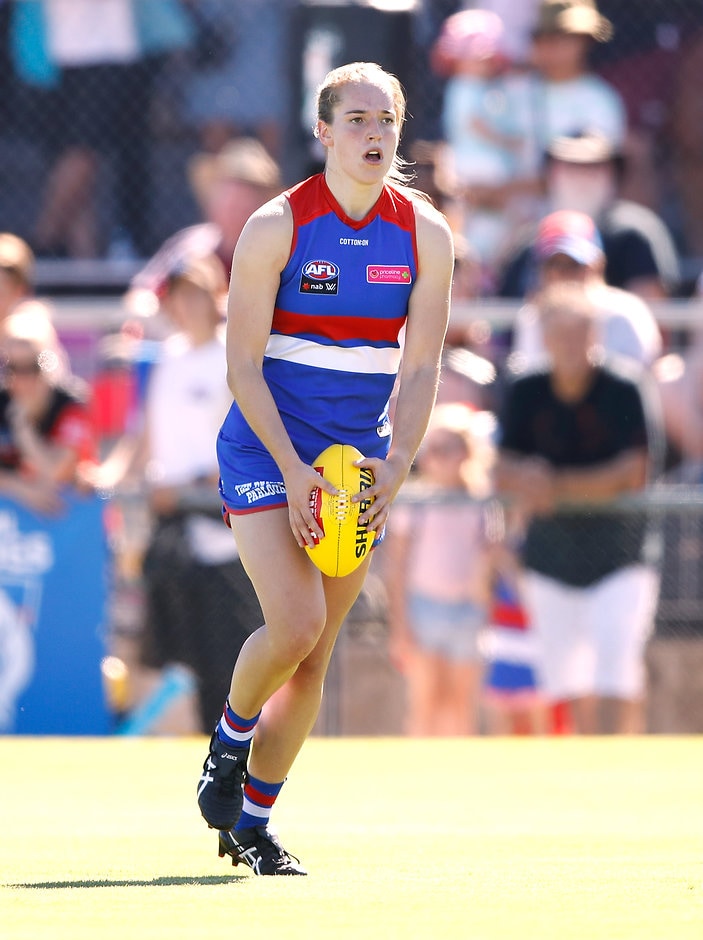 TWO OF the most talented young footballers in the country tore their ACLs within two weeks of each other.
They also happen to be cousins.
Western Bulldogs forward Isabel Huntington and Greater Western Sydney midfielder Will Setterfield are recuperating from knee reconstructions together at Huntington's house in Melbourne.
Huntington was selected by the Bulldogs with the first pick in last year's NAB AFL Women's draft, while Setterfield was picked by the Giants fifth overall in the 2016 NAB AFL Draft.
The 19-year-old Huntington tore the ACL in her right knee during the Bulldogs' round-two clash against Brisbane at South Pine on February 11. Setterfield, 20, ruptured the ACL in his left knee in a practice match against Sydney at Henson Park in Marrickville on February 23.
"Will's staying at my place at the minute, so we're both sitting on the couch with our knees up alternating who's using the ice machine," Huntington said on AFL.com.au's AFLW podcast Trail Blazers.
"It's an interesting scene in the living room. Sometimes the crutches get mixed up.
"It's obviously really disappointing for Will because he was injured (ankle) for most of last year as well and has only been in the AFL system for two years.
"I'm sure he'll get through – he's pretty tough. We can guide and support each other. It's really coincidental that we both did it within a week."
The cousins were operated on by the same surgeon (Professor Julian Feller) at Melbourne's Epworth Hospital, with Setterfield recuperating in the hospital bed next to the one Huntington had used a week earlier.
It's Huntington's second knee reconstruction – she tore the ACL in her left knee in September 2016.
"Having gone through the rehab process before, it's very long so you have to know the ins and outs and what to expect. I think this one will be a lot easier," she said.
"I've done less damage this time, which is good; no meniscus damage, so that's one tick. I think I'm in better hands, being in the Dogs' environment and at an AFL club definitely helps because you've got all those resources to look after you."
Huntington had kicked two goals in two minutes just before sustaining the injury in an innocuous tackle.
"It was a pretty familiar pain. Anyone that's done it once and does it again is probably pretty familiar with how it feels.
"KB [captain Katie Brennan] was standing over me holding my hand, and I said, 'I think it's my right knee'. The docs came over and assessed me at the ground and they were pretty sure it was an ACL.
"The initial pain goes for about a minute, and it's pretty excruciating. It's almost like stabbing all over your knee, then after that it just goes numb. The flight home (from Brisbane to Melbourne) wasn't the most comfortable, but that initial stage had passed."
Teammate Daria Bannister tore the ACL in her left knee in her debut AFLW match the week before Huntington did, and an unfortunate coincidence has since come to light.
"Daria was my roommate the first time I did my ACL," Huntington said.
"The first game we played together (a youth girls' exhibition match at Etihad Stadium) I did my knee, then the next game (round one of AFLW this season) Daria did her knee, then the game after that I did my other one.
"So, we haven't had a good string of games together."