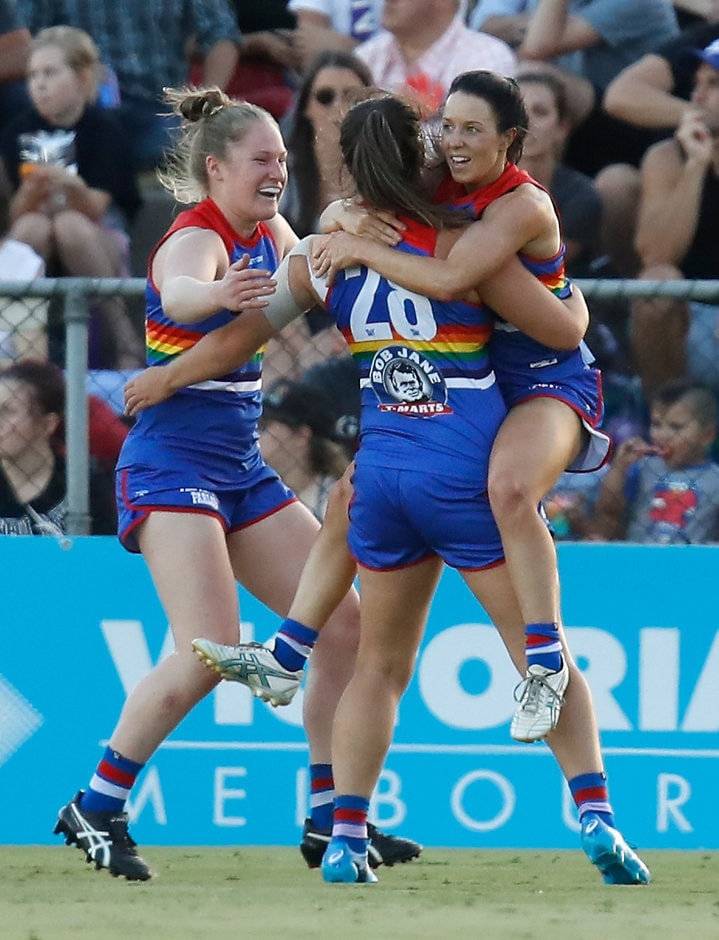 1. A simple plan
So here we go… it's pretty simple from here on in.
Win and we can start talking about a Grand Final berth, lose and it sets up probably the most important game in the Dogs' short AFLW history, where arch rivals Melbourne await.
Being a game and 55% clear on top of the ladder is a nice little buffer but it's no time to rest on the achievements to date. We'll know a lot more late on Saturday night.
2. Form line
There's no disputing that the Dogs have been rolling this season, the only loss coming against Adelaide on the back of a superhuman effort from Erin Phillips.
The last time Paul Groves took his team to the old Manuka Oval (now UNSW Canberra Oval), they brought home a 32-point win, which incidentally is the last time the Giants themselves have played there.
As for form, GWS have two wins and a draw from their last three week, and two more will book them a spot in the grand final.
3. The record breakers
The Dogs have broken a few records this season and they've got another in their sights.
According to AFL/W stats guru @sirswampthing, the Dogs' 251 total points has them within striking distance of Adelaide's 2017 record of 291, having already passed their previous high mark of 237.
And there's still two rounds to go. So if you like stats, you can cheer this one home, hopefully.
4. The difference
GWS coach Alan McConnell was asked by the Sydney Morning Herald this week what his plan for shutting the Dogs down was, to which he responded: "Win the ball, keep the ball off them, kick more goals than they do. How am I going?"
Stopping the Dogs scoring has been one of the great challenges for opposition coaches this year, even in the absence of injured skipper, Katie Brennan, and kicking another big score could be the difference here.
The Dogs have kicked 36 goals this, fourteen more than the Giants. And with League's leading goal kicker Brooke Lochland continuing to create havoc for opposition defenders, and Bonnie Toogood always dangerous, the Dogs should have confidence they can kick a winning score.