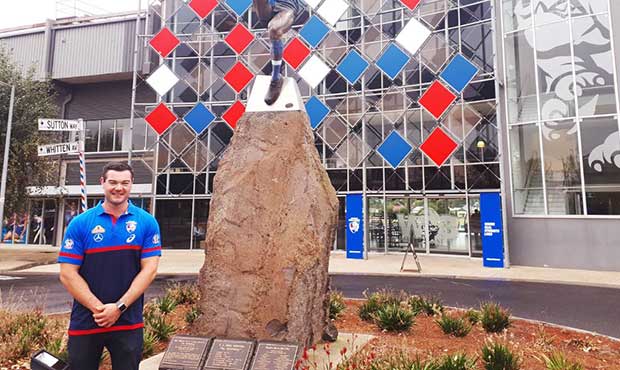 This article was published in The Standard on the 9th of May, 2018.
Losing someone close to him helped Kyle Byers decide on a career switch.
A boilermaker by trade, Mr Byers retrained and has now landed his dream job at the Western Bulldogs Football Club to work with the next generation of young leaders.
The career change came about after Mr Byers lost someone close who had been living with depression.
"There's definitely an issue of mental health particularly within rural communities and I really wanted to help make a change and take away the associated stigma in that community," he said.
In his new role, Mr Byers will run the Western Bulldogs Leadership Project in the Glenelg Shire, guiding 16 nominated young people through the seven-month program.
As part of the program students will attend camps, workshops and hear from guest speakers about how young people can change the world and have a voice.
Mr Byers said the young people would also select a social issue and develop their own projects in the local community.
"We want to encourage young people to be leaders in our community and reinforce that leadership is not just about public speaking – it's about action," he said.
Mr Byers is close to completing a Diploma of Community Services at South West TAFE in Warrnambool and is pleased to be making the return to study.
"It has definitely changed my life and made me a better person. I never thought I would get an opportunity to work with an organisation like the Western Bulldogs," he said.
Western Bulldogs youth leadership and development manager Adam Moedt said the project had been running in the Glenelg Shire since 2014, but this was the first time it would be lead from someone to be based in the Portland community.
"The Western Bulldogs Leadership Project program uses the Western Bulldogs as a vehicle to engage with young people and to help them to learn their own leadership styles," he said.
Mr Moedt said it was pleasing to have a local face in the leadership role.
"It's very exciting for us to have Kyle on board and for him to help us facilitate this program. And who knows where this will go, we're always open to expanding this program in the future."