Garden Gate Bar
The Garden Gate Bar is now the destination for an early dinner and afternoon drinks post work opening from 12pm on Thursdays and Fridays.

There are Food Trucks on rotation in partnership with The Food Truck Park as well as a wide selection of Craft Beers and an extensive cocktail menu.

Come and enjoy a lunchtime or after work drink in the leafy surrounds right in the Melbourne CBD.
Location: Gate 5, enter from external or internal concourse.


The Chipper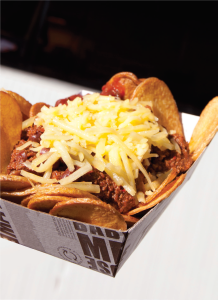 The Chipper offers a twist on the nacho – made with lattice cut potato chips then topped with a variety of ingredients inspired by various cuisines.

Menu items include:
· Bacon and Cheese fries – fresh cooked fries lashed with nacho cheese, topped with crispy bacon
Chipper the Greek – lattice cut fries, marinated slow smoked lamb, diced tomato, onion, fetta and tzatziki
·
Location: Level 3, Aisle 25
The Studio Restaurant

With a view worthy of even the most epic events, The Studio offers a delicious menu and caters for the whole family. The restaurant opens two hours before the game & closes when the game begins, making it the perfect way to kick off the day.
Opening hours: On event days when main gates open until commencement of the game.

You are also able to pre-book a table online at etihadstadium.com.au
Snag Bar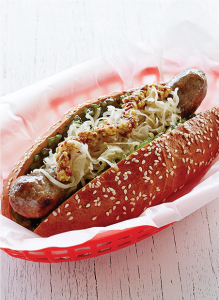 We start with a gourmet snag, add a fresh roll and some delicious toppings to deliver an iconic fan favourite.
Menu items include:
· German Dog (Classic Bratwurst topped with sauerkraut, grilled onion and Dijon mustard)
· Mexican Dog (Jalapeno & Cheese Kransky topped with avocado salsa and sour cream).
Location: Level 1 Aisle 2; Level 3 Aisle 13
Frank's
Frank's pays homage to the tradition of the American Ball Park – serving a quality hot dog topped with ball park inspired toppings.

Menu items include:

· American Classic Hot Dog – crunchy roll, American mustard, tomato ketchup, diced onion, sweet gherkin relish, fries
Chilli Cheese Dog – crunchy roll, chilli con carne, American cheese, fries·
Location: Level 3 Aisle 1


Great Aussie BBQ
Combining two great Aussie loves – sport and barbeques. The Great Aussie BBQ offers global flavours using local produce, cooked on an Aussie-style BBQ including:
· Aussie Steak Sandwich – grilled sirloin, lettuce, tomato, beetroot, onion, fries
Peri-Peri chicken burger- spiced chicken breast, lettuce, tomato, fries
· · Classic Bratwurst Grilled Sausage – crunchy roll with Dijon mustard, fries
Location: Level 3 Aisle 37
Chicken Republic

A brand new retail offering, head to Chicken Republic for your game day feed. Menu items include:

Fried Chicken
· · Korean Chicken Wings
Healthy Chicken and Salad·
Location: Level 1, Aisle 43


Smoke and Smoulder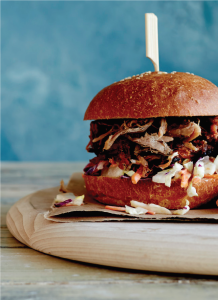 Inspired by the deep South of the United States where Texas smoked and barbecued brisket is a tradition.
Menu items include:
Pulled Pork Roll – Slow smoked pulled pork, crunchy roll, Asian slaw
Southern Fried Chicken – served with chips and slaw
Baked Potato – Coleslaw, bacon, cheese, sour cream, chives (can be made vegetarian )
Location: Level 1, Aisle 22


General Food Outlets
Food outlets offer high quality quick service retail food and beverage products. Hot pies, premium hamburgers, fish & chips, chicken & chips, ice-creams.
Location:
Level 1: Aisle 4*, Aisle 7, Aisle 18, Aisle 22, Aisle 21, Aisle 45
Level 2: Aisle 31, Aisle 42
Level 3: Aisle 5, Aisle 20, Aisle 29, Aisle 44
*Food outlet 104 is a cashless outlet.
Cafe Options
Offering a diverse range of food options on event days, our Coffee outlets have fresh sandwiches, salads, yoghurt, fruit salads, wraps, doughnuts and gluten free products.
Location:
Level 1: Aisle 6, 18 & 30
Level 2: Aisle 43
Level 3: Aisle 5, 20, 29 & 44
The Great Northern Bar

The Great Northern Bar offers hot pies and hot coffees all while you enjoy a live feed of the game so you can refresh and refuel without missing a moment.
Location: Level 2, Aisle 38


Locker Room Bar & EJ Whitten Bar
The Locker Room Bar has cold beer and live sports on super screens. There's no better place to enjoy every moment of the game.
The bar can be accessed via Level 1, Gate 2 on event days.
On event days, the EJ Whitten Bar is open to all patrons. With multiple screens showing all the action from the game as well as a variety of sports, there's cold bear on tap as well as a great view of the game.
Location: Gate 2, Level 2.


General Bar Outlets
Bar outlets offer a selection of Australian classic and international premium beers, cider, ready to drink spirits (Bourbon, Scotch, Vodka and Rum) and premium red, white and sparkling wine
Location:
Level 1: Aisle 8, Aisle 21, Aisle 28, Aisle 34, Aisle 41, Aisle 47*
Level 2: Aisle 29, Aisle 44
Level 3: Aisle 9, Aisle 17, Aisle 24, Aisle 33, Aisle 40, Aisle 48
*Bar 147 is a cashless outlet.