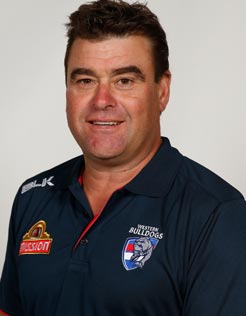 Chris Maple coached the North Ballarat Rebels in the TAC Cup for two years prior to joining the Western Bulldogs coaching panel in 2008.
Maple has worked tirelessly in recent years on the expansion of the Bulldogs' development program after holding the position of Development Manager, before being named as the senior coach of the Footscray Bulldogs VFL side before the start of the 2014 season.
Maple led the Footscray Bulldogs to the VFL premiership in 2014 - the team's first year back in the state league - and in late 2014 was promoted to the position of Head of Development at the Kennel.
Maple has also coached at both Tatyoon and Buninyong football clubs in the Ballarat league, and through those roles had played a major role in the Rebels Development Squad over eight years.

Following the Club's AFL Premiership success in 2016, Maple moved into the newly created role of Coaching Performance Manager and will support the development of the Club's assistant coaches whil providing direct assistance to Senior Coach Luke Beveridge. Maple also oversees performance analysis and player welfare.