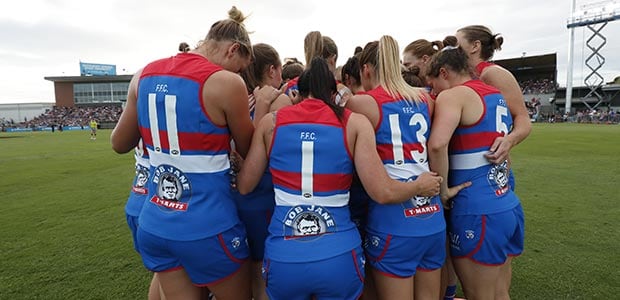 How much do tickets cost?
Nothing, entry is FREE!
How do I guarantee good seats?
Get there early. Gates will open 90 minutes before first bounce.
Disabled Access
Yes- both entry points are disabled access. You are also able to drop of disabled guests to the front of the building and then go and find parking.
Entrances
Entrances to the Victoria University Whitten Oval will be located at:
Cross Street
Corner of Barkly Street and Whitten Avenue
Baby Change Facilities
There are baby change facilities and a parent room located in Barkers Café.
Lost Children
Lost children will be taken to the reception, in the main building at the Victoria University Whitten Oval. An announcement will also be made by the MC when appropriate.
Food Options
Food is permitted to be brought into the venue. However large eskies, hampers, chairs and stools, glass and alcohol are not permitted. All bags will also be searched on arrival. All alcohol must be purchased inside the venue.
Food Options
There is a large variety of food options inside the Victoria University Whitten Oval including:
Food trucks offering a variety of cuisines
Cape Grim BBQ serving up top quality burgers
Biggie Smalls van serving up kebabs and chips
Barkers Café offering a variety of food, drinks and coffees
Several other outlets around the ground selling hot pies, chips, and drinks
There will also be several spots to buy drinks and alcohol including:
Two Birds Brewery Bar selling the new, exclusive Western Bulldogs beer – Trailblazer
Barkers Café
Various beer tents and coke drink tents located around the ground and in the Fan Zone
Food Trucks will also sell drinks
ATMs
There are several ATMS located inside the ground. There is an ATM inside Barkers Café. There is also 2 ATMs on Spurling Reserve in the Fan Zone.
First Aid
First aid is located at the Cross Street end of the ground. If you need help you can also speak to the Western Bulldogs staff and volunteers around the ground. Fans are reminded to stay cool and wear sun protection at day games.
Lost Property
If you have lost property please check at reception located in Barkers Café. Any phone enquiries should be directed to the Western Bulldogs Reception (1300 46 36 47)
Membership
AFLW Membership is available on the food truck hill and at reception inside Barkers Café. AFLW Memberships are available from $25.
Merchandise
The Bulldogs shop will be open for the duration of the game and can be accessed through Barkers Café.
Pass outs
Patrons wanting to leave and return the Victoria University Whitten Oval can gain a pass out stamp at the exits and return in the same day.
Phone charging
There will be portable chargers available at the Western Bulldogs Real Strength Van in the Fan Zone. Priceline will also offer a phone charging station at their Beauty Lounge in Round 1.
Programs
There will be AFLW records available at the gates and sold by record staff.
Smoking
Smoking is not permitted anywhere in the Victoria University Whitten Oval. If you wish to smoke, we ask that you get a pass out and leave the venue please.
Sunscreen: Is available at reception and First Aid locations throughout the precinct.
Water Stations
There is a water station provided by City West Water located in the fan zone. Here you can fill your water bottles and get a drink.
Museum
The Museum will be shut during the AFLW games.
The museum is open Monday – Friday 9am-5pm (except game days).
Gender Neutral Toilets
Gender Neutral Toilets will be available in Barkers Café. If you need directions please ask our staff members.
Disabled Toilets
These will be available at Barkers Café and in Spurling Reserve near the Fan Zone.
Victoria University Whitten Oval is located at 417 Barkly Street, West Footscray, and is approximately 8.5 kilometres from Melbourne's city centre.

Due to limited parking at the venue, public transport is the recommended mode of transportating to all AFLW games at VU Whitten Oval.
Train, tram and bus routes all frequent Victoria University Whitten Oval and its surrounding areas. Below are the list of the recommeded services to take to arrive at the ground.
Train

Victoria University Whitten Oval is a short 250 metre stroll from West Footscray train station.
West Footscray station is on the Sunbury/Watergardens line, and is approximately a 15 minute train ride from Flinders Street Station.
Tram

By tram from the city, catch the #57 West Maribyrnong service.
The #57 service links at Maribyrnong Road with the #82 service, which passes within a one-kilometre walk of the ground.
Bus
The following bus services stops one street away from the Victoria University Whitten Oval on Geelong Road

410; Sunshine – Footscray,
411; Laverton Railway Station - Altona Meadows – Altona – Footscray (via Millers Road)
412; Laverton - Altona Meadows – Altona – Footscray (via Mills Street),
414; Laverton - Footscray 472 - Williamstown - Moonee Ponds via Footscray.

The following bus services stop outside the ground on Barkly Street.

220 - Sunshine - Gardenvale via City & Footscray.
The following bus services stop around the corner from the ground on Barkly Street

216 - Caroline Springs - Brighton Beach via City & Footscray.
219 - Sunshine West - Gardenvale via City & Footscray.

Public Car Parking

There are numerous paid parking options in the area including: Western Hospital 750 meters away. $5.50 Western Private Hospital 250 spaces. 750 meters away. $8.90 all day parking Victoria University 650 spaces. 1.5km away. Free parking. There is also on street parking available in the surrounding areas - Check signs for relevant restrictions.
In 2018 there will be a focus again on security measures to promote a safe and secure environment for all of our patrons. We encourage all patrons to report anything suspicious that they see and wish to remind them that they play a vital role in the security and safety of the AFLW games at the Victoria University Whitten Oval.
In preparation we encourage guests to arrive early to avoid delays accessing the venue, pack light if possible and read the prohibited items list below.
Prohibited Items
Alcohol (unless purchased at the venue)
Chairs and Stools
Eskies and hampers
Animals (other than assistance animals)
Drones, flares, fireworks, laser pointers
Any other dangerous item, weapon or any "prohibited item" under the Major Sporting Events Act 2009 (Vic).