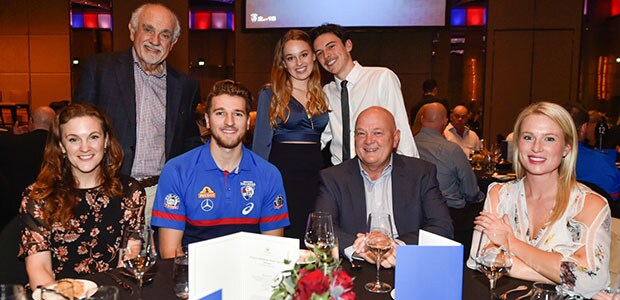 As a part of your Player Sponsor membership benefits, you can purchase guest passes to bring friends and family for our nine (9) Home games at Marvel Stadium.
2019 Guest Pass – Player Sponsors
Room – Parker Room (Access via Gate 6)
Member Adult * - $60
Member Junior * (6-15 years) - $35
Non-Member Adult - $85
Non-Member Junior (6-15 years) - $40
We will again be offering a special rate for any Top Dog looking to bring an existing Western Bulldogs member. The price of a guest pass for an existing member is $60.00 for an adult and $35.00 for a junior (6-16 years old). If you wish to purchase these passes, you will need to contact Finley Eggers directly to verify the member.
* Member price is available for guests that currently hold a valid 2019 Western Bulldogs Access Membership. These can be purchased via phone only.
Please note that the availability of guest passes is subject to capacity.
To book your ticket(s) online, click here and follow the prompts.
If you have any questions or would like to book ticket(s) over the phone, don't hesitate to contact Finley Eggers on (03) 9680 6302 or email finley.eggers@westernbulldogs.com.au.
Founded in 1969 to build on player-sponsor relationships and to contribute to purchasing new equipment for the playing group the Player Sponsors coterie group today consists of a passionate and loyal Bulldogs following.
Increase your involvement with the Western Bulldogs in 2019 by sponsoring one of our 44 listed senior and rookie players and show your support from the exclusive Player Sponsors function room including premium level 2, centre wing seating.
Build your relationship with your sponsored player with two tickets to an exclusive Player Sponsors Dinner dining with your player, as well as tickets to other major club events.
Match Day Benefits
Two (2) Player Sponsors Home Game membership, including access to Marvel Stadium games only.
Exclusive use of the Player Sponsors Coterie Room with cash bar facility at all Western Bulldogs home games at Marvel Stadium (Parker Room).
Premium allocation of level 2 seating outside the Parker Room (centre wing).
MC and special guest speakers including an interview with a listed player
Two (2) Player Sponsors match day dining pass to be used at any of the designated dining home games.
Additional Benefits
Two (2) tickets to the 2019 Western Bulldogs Season Launch.
Two (2) ticket to an exclusive 2019 Player Sponsor Dinner to dine with your player
Two (2) ticket to the 2019 Charles Sutton Medal
Personally signed gift from your sponsored player
Player Sponsors scarfs and pins
Recognition on your sponsored players' Player Profile on westernbulldogs.com.au
Recognition in the 2019 Bulldogs Magazine Yearbook.
Priority access to purchase tickets to the 2019 Toyota AFL Finals Series and AFL Grand Final if the Western Bulldogs are a competing club.

Price: $3780 for one (1) Players Sponsor Package. Each package provides seating and membership benefits for two (2) adults.

* Home Game packages include access to Marvel Stadium home games only.
**Home & Away Player Sponsors packages are available.


For more information, please contact Finley Eggers, Corporate Sales Executive - Coteries, on (03) 9680 6302 or finley.eggers@westernbulldogs.com.au.