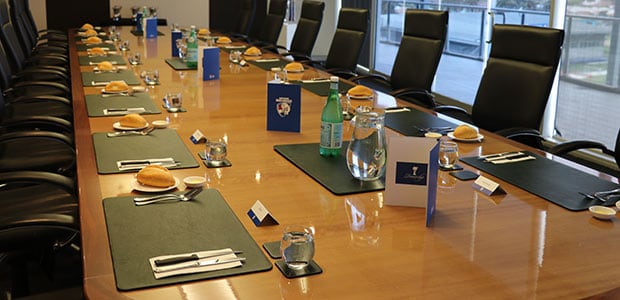 Located in Melbourne's inner Western Suburbs and only 10 minutes' drive from the CBD, the Executive Boardroom at Victoria University Whitten Oval is the perfect venue for your next event.
With stunning views of the city skyline that can be enjoyed from its private outdoor balcony, the Executive Boardroom is an ideal space to impress your corporate clients.

The boardroom caters for 24 people seated around the boardroom table, or more if standing.
From casual dining to formal events, at VU Whitten Oval we offer a wide variety of catering options.
The Executive Boardroom is equipped with the latest audio-visual equipment to ensure your presentations are executed effortlessly.
What's Included:
• Room Set Up
• Personalised Event Signage
• Data Projector, Screen & Plasma TV
• Laptop & Audio Connectivity
• Lectern & Microphone
• Whiteboard
• Water & Mints
For more information, or if you would like to preview the event space, please call Alison Manser on (03) 9680 6312 or email events@westernbulldogs.com.au