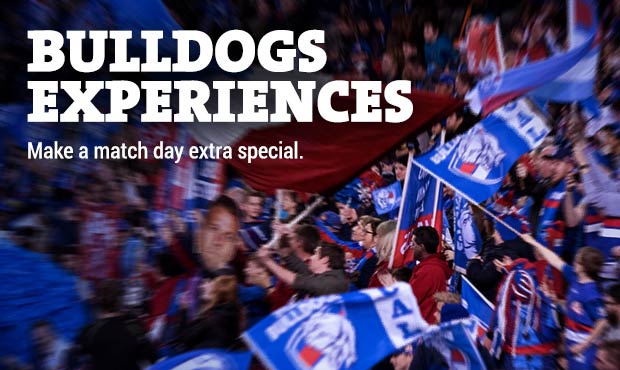 Ever wanted to stand on the field as the players break through the banner, know a young supporter who would love to be a junior captain with Easton Wood or Katie Brennan or shout out a loved one on their important day? Now you can make each match day a special one with the official Western Bulldogs app. Alternatively you can send an email to jake.crawford@westernbulldogs.com.au with the experience you are interested in.

Pre-Game Guard of Honour

Experience the start of a game like never before! Be on field and watch the players as they run through the banner.

AFL $40
AFLW $25



Junior Captain

A once in a lifetime opportunity to run out with the team and through the banner alongside Captain, Easton Wood or Katie Brennan. Strictly limited to only 2 children per game.

AFL $1,500
AFLW $500

Lap of Honour with The Pack

One lucky supporter will get to take part in The Pack's pre-game Lap of Honour.

AFL $40
AFLW $25




Photo and Message on the Big Screen

Are you celebrating a special occasion or just want to shout out to someone special? Share a message and photo on the big screen at the game.

AFL $60
AFLW $25

Watch the pre-game warm up on-field

You will be able to stand on-field and watch the players complete their pre-game warm up. You can't get any closer to the action

AFL $20

BUY NOW

Simply download the official Bulldogs App on your iPhone or android phone via the App Store or Google Play. Select Match Day Experiences from the Fan Zone menu and select your experience!
Bulldogs Experiences will be available all Western Bulldogs home games in the 2019 AFL & AFLW Premiership Season. Click here to view the 2019 AFLW & AFL fixtures
To register for Game Day Experiences all you have to do is follow the below steps:
Download the official Bulldogs App on your iPhone or android phone via the App Store or Google Play, and ensure you turn notifications on.
iPhone | Download the official Bulldogs mobile app for iPhone here.
Android | Download the Bulldogs mobile app for Android and other mobile devices here.
Tap 'Match Day Experiences' from the Fan Zone menu.
Select the Game Day Experience you would like to be a part of.
Select quantity (dependant on experience selected) and continue to checkout.
After you have purchased your experience a club representative will be in touch with more information on how to redeem your experience.
Receive notifications
Once you have downloaded the app you can also register for upgrade notifications that will notify you about Game Day Experiences available at upcoming Bulldogs games.
To register for these notifications simply follow the below steps:
Tap 'Match Day Experiences' from the Fan Zone menu
Scroll to the bottom of the page and select the button 'Get Text Alerts'
Fill in your details and hit the sign-up button
Once experience upgrades become available, we'll text you to let you know
Any questions? Email us at membership@westernbulldogs.com.au and our friendly staff will get back to you or send us a tweet @westernbulldogs.
Winners of the raffle competition purchased through the Bulldogs Experience program via the official Western Bulldogs app are randomly selected by the Western Bulldogs. The Western Bulldogs will contact the winner/s directly to notify of how to claim the prize. Raffles are in no way sponsored, administered by, or associated with Southern Experience, LLC.
Prizes are not transferable or exchangeable for cash. All images are for promotional purposes only.
Please note – Hard copy raffle tickets won't be issued from the online store. The email and attachment you receive after purchase will act as the confirmation of your ticket(s).
All personal information you provide will be used by the Western Bulldogs Football Club, AFL and on behalf of selected third parties in accordance with our Privacy Policy, this may include promotional and direct marketing activities and other disclosures as specified in our Privacy Policy found at westernbulldogs.com.au/privacy. By providing your personal information, you agree to such use. Your personal information will be kept securely and confidentially. Although you may choose not to provide us with certain information, please be aware that this choice will affect the type of and quality of service we can provide you.
Ineligible Persons
The following persons are ineligible to win a prize for themselves or on behalf of any other person:
a) Office holders and employees of the Western Bulldogs
b) The nominee for the raffle, and
c) Relatives of office holders, employees and the nominee.
Note: 'Relative' means spouse (including de facto spouse), parent, child or sibling (whether of full or half-blood).
Prize Conditions
Raffle tickets are allocated to each individual match and cannot be transferred for any other date. No flights or accommodation are included. The winner acknowledges that the tickets may not be sold or offered for sale.