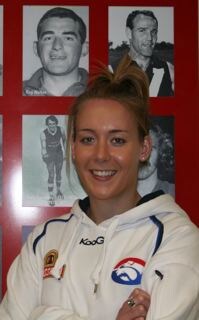 Growing up, all Lauren Arnell wanted was to play for the Western Bulldogs, and while family and friends shrugged off her dream, the 26-year-old had the last laugh.
Lining up in the inaugural Western Bulldogs women's team on Saturday at the MCG, Arnell fulfilled her childhood fantasy - following in her uncle's footsteps to play for the Bulldogs.
Her uncle, Ray, Walker, played 73 games for Footscray between 1959-65, including a best and fairest award in 1963.
An sms message from her sister before the game struck home with the midfielder and further emphasised the significance playing in Bulldogs colours meant to her.
"She sent me a message this morning about how growing up I always wanted to play for the Bulldogs and people would laugh because I am female and… I just burst into the tears because it is real," Arnell said.
"It really is just an honour to be able to play for the Bulldogs and I know that all the girls felt the same way, regardless of who they support."
While her sister could not be at the game, she is currently overseas, the Brookside teacher did have the vocal support of a number of her students, who attended the match as part of the Bulldogs Friendly Schools program.
In a twist of fate, fellow Brookside teacher Lauren Sparks was also drafted to the Bulldogs side.
Arnell said despite the Bulldogs' loss, the physicality and skill level on show against Melbourne in the curtain raiser was a great showcase for women's football.
"I think it is really important for women's footy, for the public that don't know much about the game to see that we are just footballers," she said.
"You can put the women's in front of it because we are females but it's footy when it comes down to it, we play AFL.
"I think as the Bulldogs side we really tried to take on board our motto that is Cede Nullis (yield to none) and maybe that is where some of that physicality came from."