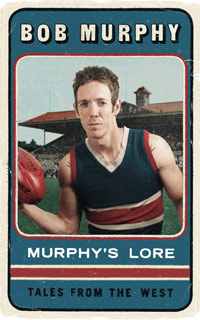 The Bulldogs' beloved skipper Bob Murphy regular musings from his Melbourne newspaper column have been enshrined in book form, set for release.
"Murphy's Lore: Tales from the West" comprises the best of Murphy's much-loved weekly newspaper columns in The Age - including his 'Fantasy Football League' teams of film stars, musos and pollies.

From the strange joy of a wet Melbourne winter to the challenge of playing on the sublime Stevie J, Murphy's Lore shines with the warmth, wisdom and charm of the Dogs' evergreen champion.
Murphy will be in store at the Bulldogs Shop at Victoria University Whitten Oval this Friday (13 March, 2015), between 2:00pm and 3:00pm, to launch the book to the Bulldogs faithful.
The Club captain will also be signing copies of the book for those in attendance.


'Life, death, love, zoneball and the whole damn thing.' Tex Perkins
'Bob's like an elegant gonzo journalist. He's in the thick of it, writing from inside the maelstrom of AFL footy . . . A gift every week of the season.' Tim Rogers

Event details:
Murphy's Lore - Bob Murphy Book Signing & Launch
Friday 13th March, 2015
2:00pm – 3:00pm
Bulldogs Shop
Victoria University Whitten Oval