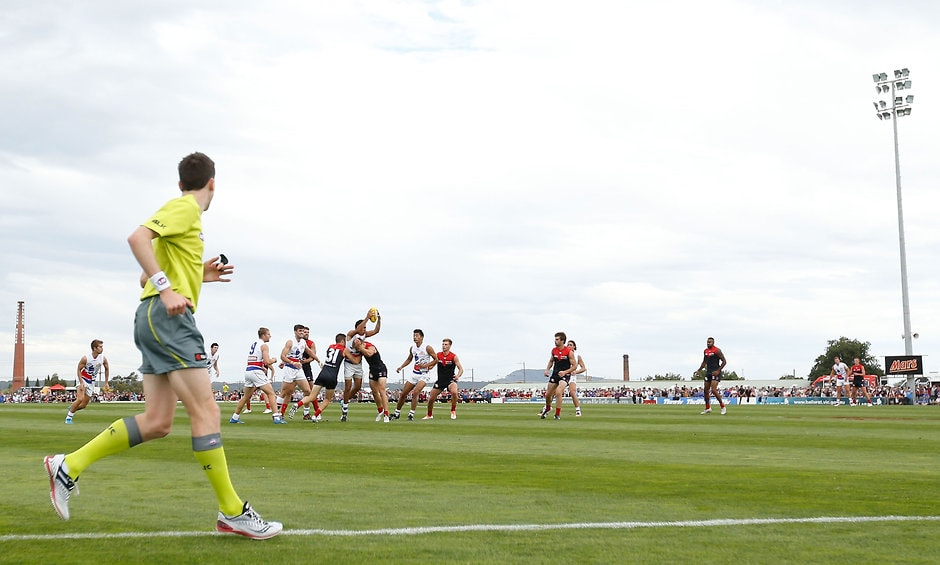 $31.5 million of State Government funding has been confirmed for the redevelopment of Ballarat's Eureka Stadium precinct, supporting the Bulldogs' vision of home and away matches at the regional venue from 2017.
The Premier, Daniel Andrews and the State Minister for Sport, John Eren, joined Western Bulldogs President Peter Gordon at Eureka Stadium on Tuesday to announce the funding will flow from 1 July, 2015 as part of the 2015-16 Victorian Budget, with $2.5 million already fast-tracked so the project can start sooner.
The $31.5 million commitment includes $15 million for Eureka Stadium – to build a state of the art stadium for the region.
With funds set to flow from the start of next month, the City of Ballarat has appointed two architects – local firm Morton Dunn Architects, and Queensland based firm Populous, who developed the concept plan for Metricon Stadium – to review the precinct's master plan.
The plan for Eureka Stadium includes new lighting, spectator seating and a video scoreboard that will support the Western Bulldogs ambition to play AFL home-and-away matches in Ballarat.
Speaking at the announcement earlier this week, Gordon said the Bulldogs were committed to a strong and permanent presence in Ballarat.
"We have spent a lot of time in Ballarat this year, talking to local businesses and talking to the local people," he said.
"We want to employ local people from Ballarat to staff that office and they will be engaged in the activities of a community based football club," he said.
"We run a number of programs in the Western region of Melbourne, our men's health program is a world leader and we want to introduce that to Ballarat.
"In addition to that we will be doing our membership services and marketing to businesses and we want to be a seat at the table when issues in relation to the stadium or the stadium arrangements are played out."