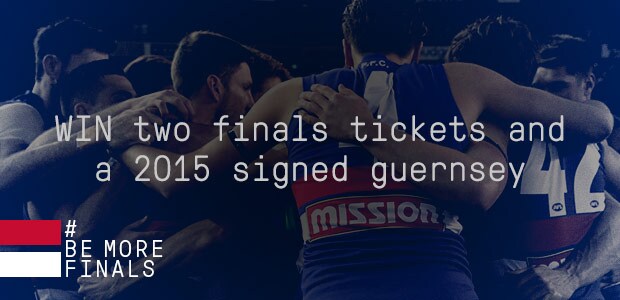 Enter your details below for your chance to WIN two tickets to our must-win Elimination Final this Saturday night against the Adelaide Crows.
The lucky winner will also receive a 2015 Western Bulldogs team signed Guernsey to wear to the game.
Entries close 5:00pm, this Thursday 10 September, 2015.

To view competition terms and conditions, please click here.

(function(t,e,o,c){var n,s,r;t.SMCX=t.SMCX||[],e.getElementById(c)||(n=e.getElementsByTagName(o),s=n[n.length-1],r=e.createElement(o),r.type="text/javascript",r.async=!0,r.id=c,r.src=["https:"===location.protocol?"https://":"http://","widget.surveymonkey.com/collect/website/js/obobdkvsgr8AE9OLYYOhRQXfXqD8jR9cqVlcocGXZ577WnYo3la8fr27j_2FA6XRja.js"].join(""),s.parentNode.insertBefore(r,s))})(window,document,"script","smcx-sdk");