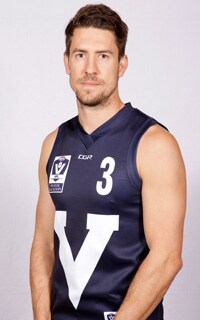 Footscray captain Jordan Russell will lead the charge in his debut state game as the VFL guns for its first win against archrivals SANFL since 2002.
"It's an honour, and it's quite unexpected with a lot of VFL skippers in the side," said Russell.
"On the day, leadership isn't going to fall to one or two people, it's going to fall everyone, and that's the great thing about it.
"Spirits are high and hopefully we continue to gel well as a group and get the win."
Lauchlan Dalgleish and Will Hayes join Russell as the other Footscray representatives in the side.
Box Hill captain David Mirra has been named as the team's vice-captain.
On the nous and experience of his deputy in this year's game, captain Russell says Mirra's record speaks for itself.
"He's a great footballer an excellent leader, he stands out at the front and he'll be a strong leader on the day as well."
The state squad currently sits at 25, with a final 22 plus emergency to be named Thursday night at training.
VFL SQUAD OF 25
BOX HILL HAWKS
MIRRA David
WARREN Max
CASEY SCORPIONS
SMITH Tim
ESSENDON
COGHLAN Daniel
FOOTSCRAY
RUSSELL Jordan
HAYES Will
DALGLEISH Lauchlan
FRANKSTON
CAVARRA Ben
NORTH BALLARAT
KIEL Luke
RIPPON Nick
PORT MELBOURNE
HARETUKU Khan
MIHOCEK Brody
RICHMOND
DARLEY Sam
WERRIBEE
SHERLOCK Scott
HANSON Matt
WILSON Jake
SODOMACO Michael
WILLIAMSTOWN
DUNELL Sam
GIBBONS Michael
FAULKS Peter
MASTERS Leigh
DORGAN Jack
SIPOSS Arryn
WHEELER Willie
MEESE Nick