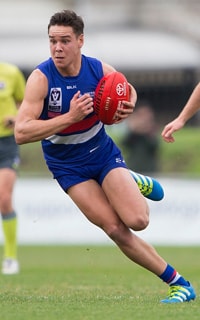 Footscray have suffered a 72-point loss at the hands of reigning VFL premiers Willamstown on Sunday morning in wet conditions at Victoria University Whitten Oval.
The 'Scray matched the Seagulls' pressure from the start, creating a tight defensive game with just three goals scored in the opening term.
The pressure was up again throughout the second quarter but Williamstown were afforded the chance to build a lead that would set the tone for the rest of the match after the 'Scray were down to no rotations on the bench after early injuries. early injuries.
Nathan Hrovat (shoulder), Nick Jamieson (ankle), Wallis (lower leg) and Lauchlan Dalgleish (concussion) all left the field through the match and didn't return
"It was a numbers game in the end," coach Ashley Hansen told westernbulldogs.com.au.
"Being down to 18 men against the reigning premier really didn't give us a chance in the second half to compete.
"I thought they scored off turnover pretty well in the first half, but we weren't able to capitalise on our offensive movement which gave them a break at half time.
"I was really happy with how we suffocated their stoppage scores, they were down and they're a really good stoppage side, but at the end of the day it was a war of attrition and we couldn't compete with no rotations."
However, Hansen was quick to praise Williamstown who put on a classy display in inclement conditions.
"I don't want to take any shine off Williamstown, they played a really good game today."
Despite the losses throughout the match to injury, Hansen praised the efforts of the team to compete for the rest of the day.
Lukas Webb and Jed Adcock among the best on ground, amassing 29 and 23 disposals respectively.
"Webb was relatively fresh after a couple of weeks off. Him and Jed really worked hard in the contest all day.
"I thought at stoppages our mid's competed pretty well but certainly Williamstown's two-way running and ability to out number us at the contest was highlighted but those two guys made reasonable contributions.
Key forward Tom Boyd played his first game back from injury, with Hansen pleased with his efforts in unfavorable conditions.
"It's a really hard day for a forward in those conditions but I thought he ran out the game relatively well and he'll be better off for it.
"He competed strongly but we didn't give him many opportunities one on one or to his advantage but I think the main thing was he got through the game and looked really comfortable, so I think his health is a big tick.'
Footscray return to Victoria University Whitten Oval next Saturday 11 June, taking on Geelong, with the first bounce at 11am.
Footscray 1.4. 4.5 6.10 7.14 (56)
Williamstown 2.2 6.9 12.10 19.14 (128)
Best: Webb, Adcock, Hamling, Russell, Wyatt, Hamilton D
Goals: Wyatt 2, Dale 2, Adcock Russell Staley