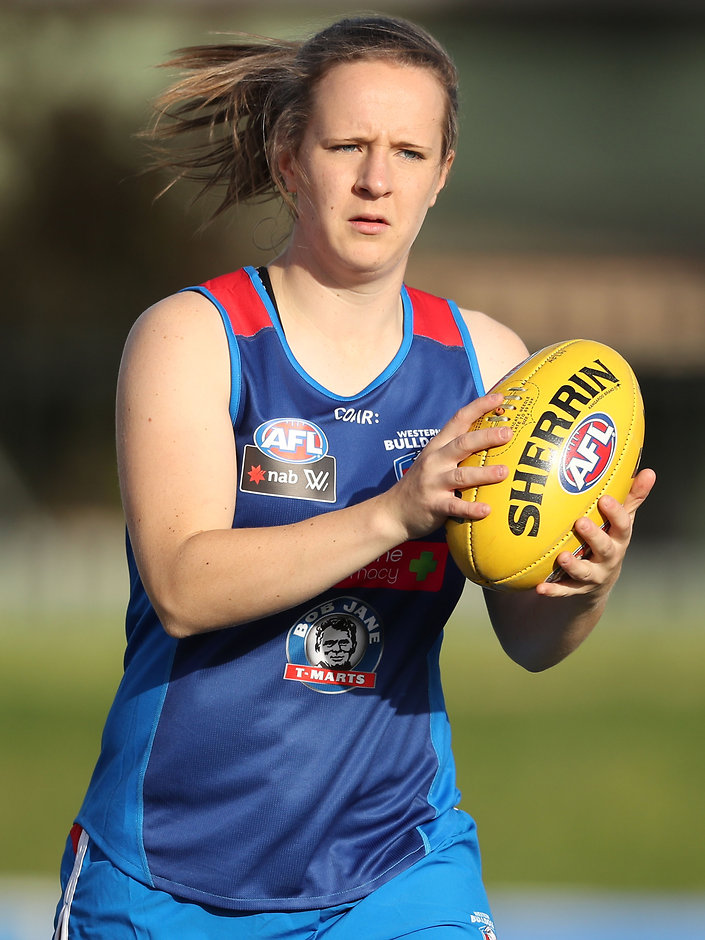 I'll never forget the first time I walked the halls of Victoria University Whitten Oval as a Western Bulldogs player. As I walked towards the change rooms, I can't help but see the history that is all around me.
A 20-metre walk takes me a good five minutes as I see pictures, guernseys, boots and everything in between of the players that have made the Western Bulldogs such a proud and passionate Club.
I think it was still sinking in. I'm now a Bulldog, and as a member of the inaugural Western Bulldogs AFLW team, we are setting out to create some more history for the club from Footscray.
Fast forward to today, almost two weeks returned from our Christmas break, and it's all business. No doubt I still take in those moments in history every time I walk into the rooms, but now I truly feel a part of the club.
We all have a job to do, and have been attacking each and every session with absolute purpose and focusing on improving.
The mood among the group is always positive – how can it not be when you're turning up to the Kennel three days a week in preparation for the inaugural AFLW season? Certainly not a bad place to be.
The pre-season has been intense for all of us. No one has been through an AFLW pre-season before, but everyone from the coaches, players and staff has put 100% into it and we feel it is showing in our progress.
We've certainly come a long way, but are under no illusions that the hard work has to continue as we build towards a tough round one match up against the Fremantle Dockers at VU Whitten Oval.
We are all learning so much in every session, and I think that's a real strength of our group; a willingness to listen and learn. From video sessions to skills work and also game-play situations, every moment is an opportunity to grow as a player.
With round one now just over three weeks away, we've started to really ramp up work on our game plan and situational play. This is something that we are really enjoying, a welcome change from those sessions of conditioning.
The situational drills really step things up a notch and brings home the reality that very soon we will be running out in round one.
There is a definite sense of pride among the group and a desire to represent the Western Bulldogs Football Club as best as we possibly can. Through preparation, training, recovery and then when the time comes to pull on the jumper, we can't wait to provide the passionate Bulldogs fans with yet another reason to cheer for the red, white and blue.
To get access to The Wides Side before everyone else, become a Women's team member and join the exclusive mailing list.