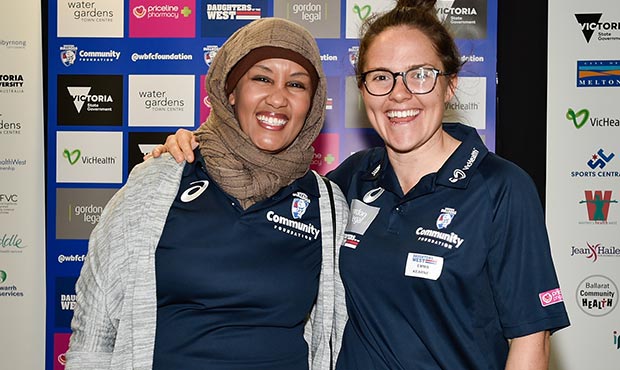 A free health program for women of the West has been unveiled by the Western Bulldogs Football Club Community Foundation today.
The Daughters of the West pilot program, which kicks off next week, has been designed to give women over the age of 18 the tools to lead a healthy life.
The program was developed after the incredible success of the Sons of the West men's health program, which has been delivered across the Western corridor of Melbourne by the Bulldogs' Community Foundation since 2014.
Daughters of the West is an eight-week health program which focusses on mental health, nutrition, physical activity, respectful relationships, parenting and financial literacy, with ambassadors including Bulldogs' AFLW players Emma Kearney and Lauren Spark and health professional Roz Richards.
It will be delivered across four participating local government associations in the West, including Maribyrnong, Wyndham, Ballarat and Melton, with participant numbers already at capacity.
Daughters of the West is being run by the Western Bulldogs Community Foundation in partnership with the local councils, and has been made possible due to the financial support of major partner Gordon Legal.
"Women living in West are facing some of the toughest health challenges across the state. There was a strong demand in the community for a health program that was relevant to the women of the West, so we decided to run workshops with both our partners and community members," said Kashif Bouns, General Manager of the Western Bulldogs Community Foundation.
"These workshops gave us an insight into what were the local issues for women and how might we overcome these. The insights led to developing an eight-week pilot program which concentrates on physical, mental and emotional wellbeing.
"It focuses on the importance of social support, while also looking to empower women to be champions of change.
"The health and wellbeing team at the Western Bulldogs Community Foundation worked with our partners across local government, community organisations, sponsors and community members to design this pilot program."
Other sponsors of the Daughters of the West health program include Priceline Pharmacy, the Department of Health and Human services, VicHealth and Watergardens Town Centre.