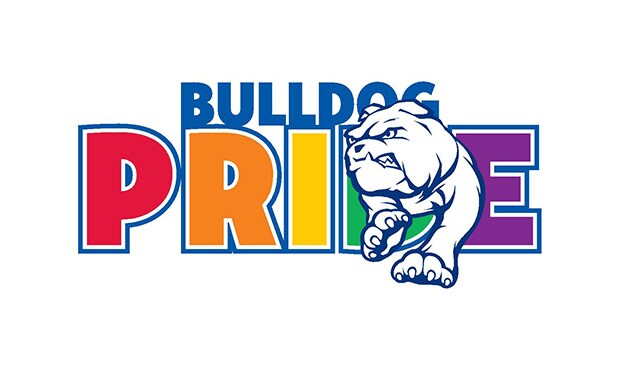 The Western Bulldogs have pledged their support for the Club's newest official fan group, Bulldog Pride.
What started as a collective of Bulldogs fans from the LGBTIQ community has resulted in the recent formalisation of the official supporter group.
Bulldog Pride is open to LGBTIQ people and allies, has memberships available, and a calendar of scheduled activities has been planned for 2018.
"We know that LGBTIQ people do not always feel safe when they go to the football, or when they do, they hide their sexual or gender identity," said Bulldog Pride founding member Wil Stracke.
"We wanted to create a space where LGBTIQ Bulldogs supporters, their family and friends could come together and enjoy the footy in a safe environment.
"Everyone in the group sees themselves as part of two communities - they are members of the LGBTIQ community (or an ally) and they are members of the community of Bulldogs supporters.
"For us, the two things are equally important, and this group gives us a chance to express our pride in both.
"We wanted to open a discussion with the Club around how it could support LGBTIQ Bulldogs supporters and players, and they've been fantastic to deal with."
The Western Bulldogs publicly supported the Australian marriage equality campaign in September last year, based on its core values as a football club.
"At the Western Bulldogs, we believe in diversity, inclusiveness and equality for everyone," said Bulldogs' CEO Ameet Bains.
"Accepting all comers, regardless of gender, race or sexual orientation, is an important part of what we stand for as a football club.
"It's really encouraging to see a group of LGBTIQ Bulldogs fans come together in their support for the Club, and we look forward to working closely with them in 2018 and beyond."
The Bulldog Pride group will be officially launched on Friday, January 19, at Pride of Our Footscray, Level 1, 86-88 Hopkins Street, Footscray, from 6pm.
Memberships are available at a cost of $25 for Bulldogs' AFL and AFLW members, and $50 for non members.
Bulldog Pride can be found on social media via Facebook, Twitter and Instagram.
To find out more about Western Bulldogs' supporter groups, click here