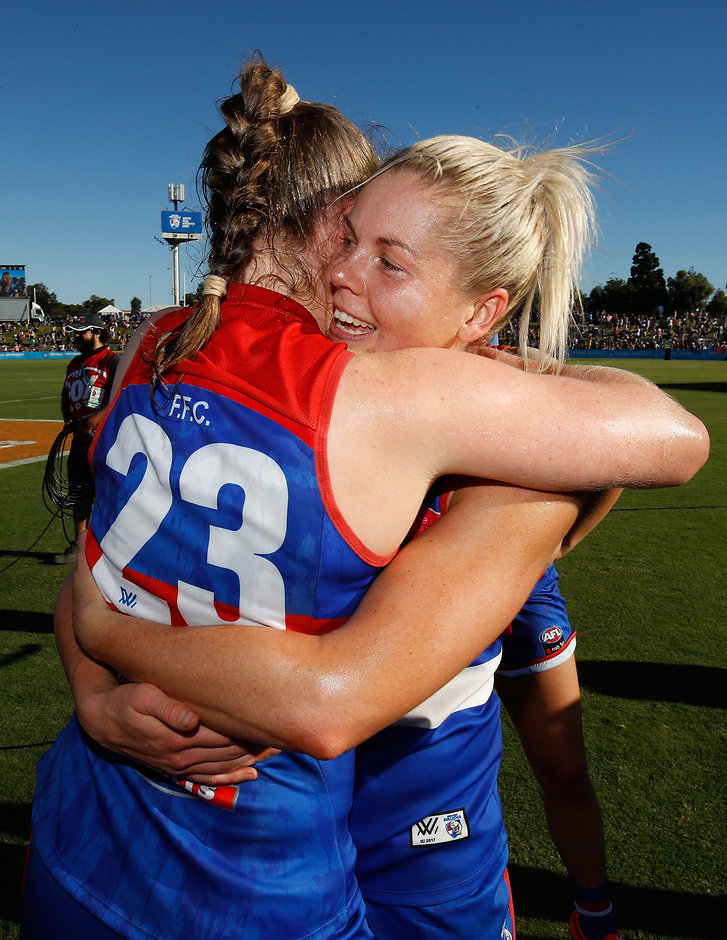 KATIE Brennan has made a superb return to the NAB AFL Women's competition, leading the Western Bulldogs on an undefeated run to start the season.
The 25-year-old missed the majority of the inaugural AFLW season after injuring her ankle in round two. She returned for Darebin Falcons in the VFLW, where she starred to claim the league best and fairest award and was the joint leading goalkicker.
Her return in 2018 as Dogs captain has seen a change of fortune for her team, which has recorded wins over Fremantle and grand finalist Brisbane. In fact, the Dogs have already matched their win tally from last season.
Averaging 11.5 disposals and 6.5 marks a game, the Queensland-born Brennan has been instrumental in both games.
Although competing and winning are critical, Brennan is also well aware of the role she and other AFLW trail blazers are playing in inspiring young girls.
"The thing that stops people from setting the bar high … is fear," she said.
"We're breaking down barriers across the board and we're paving the way for future generations.
"If you are part of an amazing community and you feel part of something bigger than yourself, then you can achieve great things."
Juggling an AFLW career with running a business (a female-focused strength training gym in Coburg in Melbourne's northern suburbs), Brennan recognises the influence she has on people's lives.
"I put a lot of time and energy into both aspects of my life," said Brennan, who has acknowledged having "a tough time" as a teenager with body image issues.
"I wanted to create an amazing environment where young women can come and be part of something bigger than themselves.
"You get to impact a lot [of people], which is an amazing responsibility and it's something [I'm] really proud of."
Although the AFLW competition is still in its infancy, Brennan is happy to play her role in its development.
"I love the fact we get to play in AFL colours [and] play for premiership points," she said.
"Although we're not where we want to be and there's still such a long way to go, we're definitely making strides towards building a better future.
"To be a small part of that makes me very proud."
The Dogs travel to Adelaide this weekend to take on Crows. Click here for full match information.