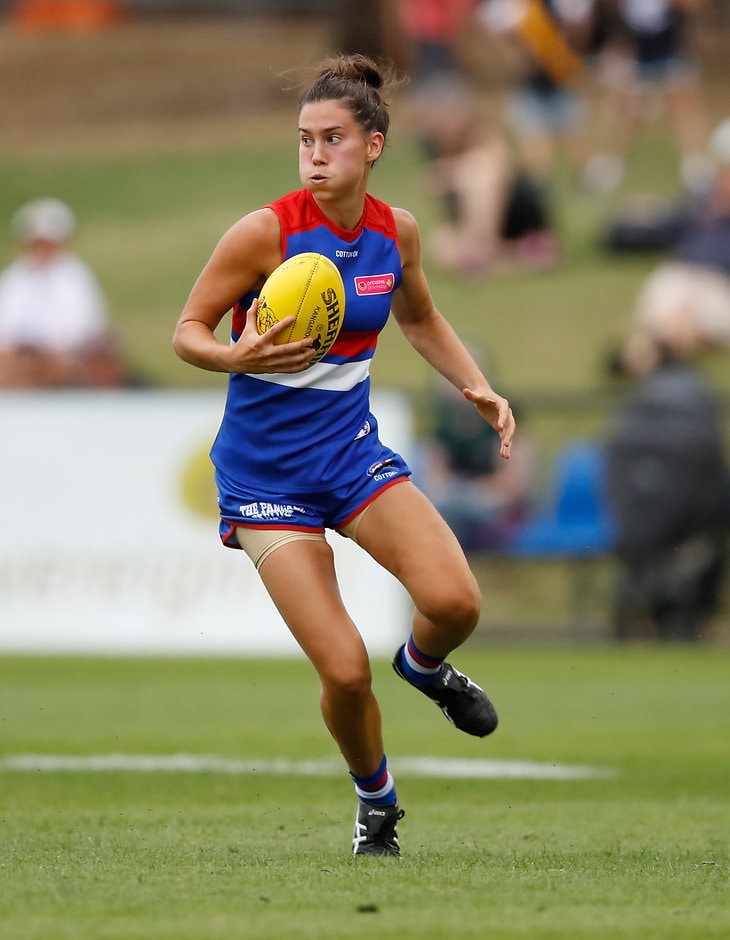 After picking up a football for the first time in June 2016, Libby Birch has since become a key part of the Western Bulldogs after making the bold move from netball to AFL.
Following the success of the Bulldogs' nine-point win over Brisbane on Sunday, Birch talked about the transition she's made over the past 18 months from having never played a game, to winning a NAB Rising Star nomination.
"Initially I was bullied quite a bit in primary school, and it was my PE teacher who said I should get into sport," she told westernbulldogs.com.au.
"From here I grew in confidence and loved the competitive nature of it; I threw myself into everything such as tennis, athletics, cross country, yet more specifically netball and hockey."
From the age of 12-16 Birch played both hockey and netball at state levels, before focusing on a career as a professional netballer and one day playing for the Melbourne Vixens.
Birch worked her way through the Victorian pathway for netball, playing in the under-17s, 19s and 21s state team along the way.
She even went on to co-captain the under-19s state team, however missed out on selection for the Australian squad that year.
The setback hit her hard, but she vowed to train as hard as she ever had in the hope of reselection in the Australian netball squad.
Although again, she was overlooked and was faced with a disheartening rejection.
"I wanted to be the best netballer I could be, that's why I was so gutted with the setbacks.
"I love the game and didn't think I could love something else, but when one door closes another opens," she said.
But it was a phone call from Melbourne's Daisy Pearce that would eventually change her life.
"Earlier that year, Daisy had messaged me and had asked if I wanted to partake in a talent squad session.
"I said no at first after my recent setbacks I got in touch with her again and asked If I could come down for a session.
"She said, 'yep we start on Friday.'"
To this day Birch remains indebted to Pearce for her guiding influence.
"I needed a change, I played netball forever and my heart was broken so needed some sort of rejuvenation.
"And Daisy had just introduced me to a sport that was just about to grow and explode at the time; it felt like fate."
"From here I set new goals and worked my butt off."
Which is exactly what she did after playing eight games with the Darebin Falcons, and was soon after, earned a Rookie deal with the Western Bulldogs.
"It means everything to be a part of the Bulldogs, I have fallen in love with the game, it is just so much fun."
The hard work and determination were recognized this week when Birch earned a NAB Rising Star nomination along with teammate Bonnie Toogood, for her shut-down role on Brisbane star Kaitlyn Ashmore.
Birch said there were skills she'd developed as a netballer that have translated across to football but admitted that switching sports has been 'one of the hardest things' she's done.
"Hand eye coordination, speed and strength are definitely aspects of netball that I've been able to use in footy, however contact, the physical use of our bodies, catching a ball that isn't round and the skill of kicking, is so different."
"But that said, I wouldn't be the footballer I am today without netball."
Now with two preseasons under her belt, Birch feels she has finally, "developed into a body of a footballer."
Birch credits coach, Paul Groves, and the surrounding support staff, for growing the program to an elite level in what is a relatively short period of time.
But it's her teammates which she reserves her highest praise for.
"There's such an amazing culture within our team. Everyone looks after their teammates and there is an element of care and love, its unspoken."
"I feel I can really be myself in footy, which is really nice."
After tough year last year, the Dogs are now sitting in second place on the AFLW ladder with wins over Fremantle and last year's grand finalists, Brisbane under their belt.
But Birch understands that win or lose she is a part of something bigger.
"AFLW have created their own special niche and it has inspired so many girls, she said.
"There are no boundaries anymore, and it'll become bigger and better."