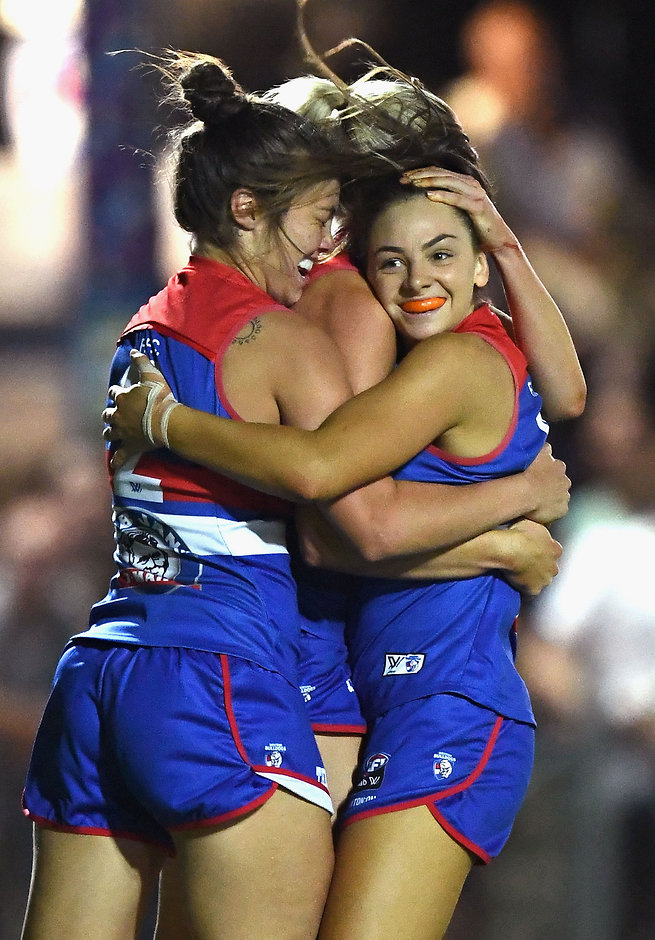 TWO GRAND finals inside two months. No wonder Western Bulldogs forward Monique Conti concedes she's living a fortunate sporting life.
Conti will be seeking personal redemption when she strives to use her breakaway speed against Brisbane in Saturday's NAB AFL Women's decider at Ikon Park.
The code-hopping teenager was the Melbourne Boomers' point guard in a two-games-to-one loss to the Townsville Fire in the WNBL Grand Final series in late January.
"It would be good for me coming off a loss in the (basketball) finals series, but it's still an honour to play in two grand finals in two professional sports in the same year. I'm very lucky," she said.
"As much as we say it's a normal game, of course, it's in the back of your mind that potentially you could be in a premiership team. Then again, we're not there yet and you have to keep reminding yourself."
Conti's sporting switch has been remarkable. Not only did the No.4 draft pick step straight into the Bulldogs' line-up, she received a NAB AFLW Rising Star nomination after the round four win against Carlton. And on Wednesday, she was one of four first-year players named in the Virgin Australia AFLW All-Australian squad.
The 18-year-old, who is studying for a business degree at Deakin University, had less than two weeks to adjust her speed, agility and clean ball-handling on a basketball court to playing a role in the Dogs' forward set-up off a modified training program before the start of the season in early February.
"I wasn't doing all the pre-season stuff. I wasn't doing all the tackling and extra running because I was already doing a lot with basketball. And last year I did year 12, so it was intense. There was no free time, but then again I'm used to doing both (sports)," she said.
"It was tough the first couple of weeks coming straight off the basketball season. It was a bit scary, but training well the first week, obviously, puts you up for selection."
Conti has played every game, averaging 14 disposals, as she absorbed instructions from forwards coach and Bulldogs player Jordan Roughead on how best to utilise her skills after playing mainly on the wing for VFLW team Melbourne University.
"It's a bit of a change, but I love the attacking role. I loved Brent Harvey (the ex-North Melbourne captain and AFL games record-holder) when he played … how quick he was, his ball use and ability to get clear. It's what you do with the ball, not how many (possessions) you get," she said.
At least Conti can dare to dream this week, with the Bulldogs qualifying for the Grand Final and a shot at matching the AFL team's feat for the club in 2016.
"It doesn't feel real yet. I'm sure it will closer to the game when I realise I'm playing in an AFLW Grand Final," she said.
"It's an exciting time for all the girls, but we want to approach it as a normal game because that's what it is."