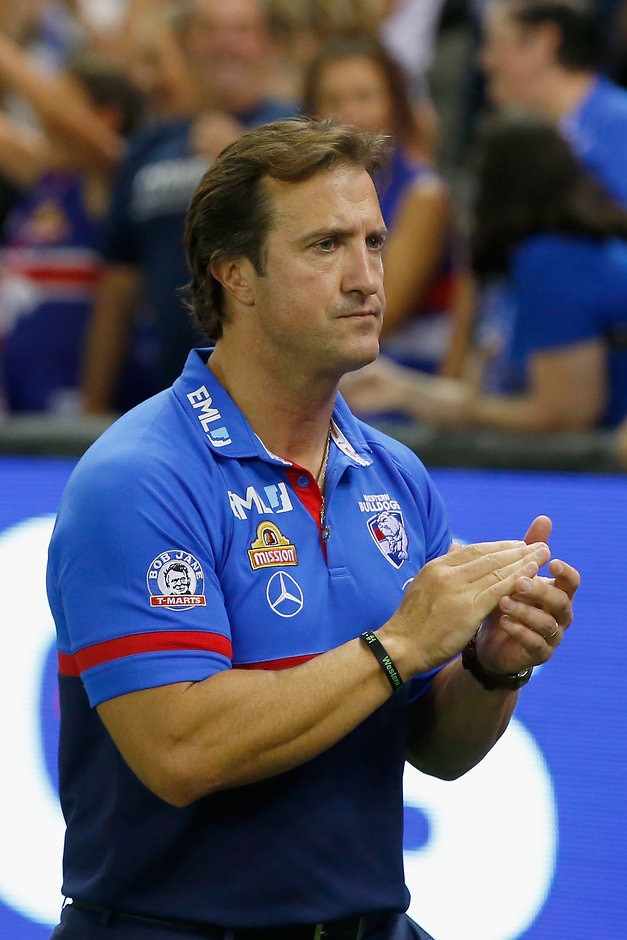 Luke Beveridge spoke to the media on Friday morning at VU Whitten Oval, and westernbulldogs.com.au have pulled out the four key takeaways ahead of Saturday's clash with the Swans.
1. The redevelopment of VU Whitten Oval
Big news was announced overnight about what the VU Whitten Oval precinct might look like in the future, and Luke Beveridge shared his thoughts on the benefits to the Club and the community.
"Sport brings people together. Football clubs are unique establishments where there's a binding of souls, in a sense, and it'll be an unbelievable place to come and feel the spirit.

"I'm well aware of the work that's been carried out over a long period of time by our president, Peter Gordon, and the lobbying and the brokering of the deal, where our club becomes the centre of attention here in the west and many, many people will benefit from it."


2. Who goes to Buddy?

With the Swans and in-form forward Buddy Franklin looming this weekend, attention turned to who gets the job on the Sydney star. And while Beveridge said young defender Aaron Naughton will be matched up with him at times, he said a full team effort will be needed to do the job.

"I think he'll be on Lance at different times. We'll have a plan in place.
"He's the best player in the competition, I believe, (and) he gets better every year. To not turn your mind on how to combat that would be senseless so we will go in with a plan t, and at different times Aaron will be somewhere near him.

"There's a lot of stuff going on up the field that will hopefully make life a little bit easier for our defenders. Without that it's going to be a tough day, he's a big man with great athleticism, but he's scope to produce is best will depend on supply and the nature of it."


3. Roughead & Trengove

Both big men will be missing this weekend, but for different reasons. Beveridge elaborated on where each player is at.

"Roughy over the last month and a half during games has had an interrupted run at it; he's missed half games coming off with injury or concussion. We just need to get him going again, get some consistency across four quarters and bring him back into the team once he feels on top of his game.

"And it's a little bit early for Jackson after that little fracture of the scapular. He's a tough man but we have to hold him back for one more week. He's almost ready to go but he's not at full capacity yet so he's a chance to play the week after."


4. An update on Liam Picken
Beveridge revealed on Thursday night on SEN that Liam Picken's concussion could potentially rule him out for the season. He was asked to elaborate on Picken's condition on Friday morning.

"He's had a couple of reasonably significant concussions and this one, for him to still be in the state he's in day-to-day... he's good, he's in this morning and riding a bike, but you can just imagine with all the time that's gone by already, for him to be not quite right, there are some concerns.

"I don't want to get into the science, we trust our medical officers and our doctors, but it is an occasion where we've sought some advice around and what that looks like in the future.

"The support is around understanding and putting a plan in place to make sure he's physically still on top of his game, but also if it comes to the crunch and he's feeling better, that we've got all of the information we need to make a good, informed decision."