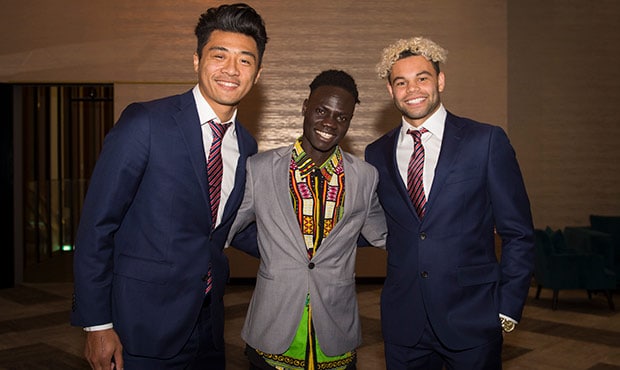 The incredible impact of the Western Bulldogs Community Foundation's programs was on display at its annual charity dinner at Metropolis on on Tuesday, 8 May 2018.
Inspiring and heart-warming stories of courage, leadership and perseverance were a constant feature of a night which highlighted the importance of the Foundation's work in the west.
The crowd of 200 people heard from past and present community program participants, as well as Bulldogs' president Peter Gordon, Foundation chair Gaye Hamilton and director Bob Murphy.
"The things that keep us connected to the west, to the Whitten Oval…they're not only the way in which our team and our players connect with, support and play to fulfil the hopes and dreams of our members," Gordon said.
"They're intimately connected with the community foundation. The club has always sought to give back.
"To all of you who participate in the programs, who support the programs, partner the programs and work in the programs, you make us so proud.
"We look forward to the tradition, the fibre, the character, the essence of the Western Bulldogs footy club, and what it means to its community, being carried on by a new generation."
Three graduates of the Foundation's Leadership Project - Hannah Farhall, Amy Zuell and Daen Sadhai, explained their social enterprise project Socks of the West, a program which aims to assist the homeless.
16-year-old Ballarat-born Cooper Craig-Peters, who has participated in the Foundation's Nallei-Jerring Koori Youth Leadership Program, unveiled the Club's 2018 Indigenous Round guernsey, which he designed.
James Kot, Quang Hunyh and Ethan Nguyen spoke about the power of the Foundation's social inclusion programs in helping migrants and refugees settle and thrive in Australia.
And participant Phil Pollock, alongside his daughter Angela, gave an emotion-charged tribute to the Sons of the West men's health program for the amazing impact it has had on his life.