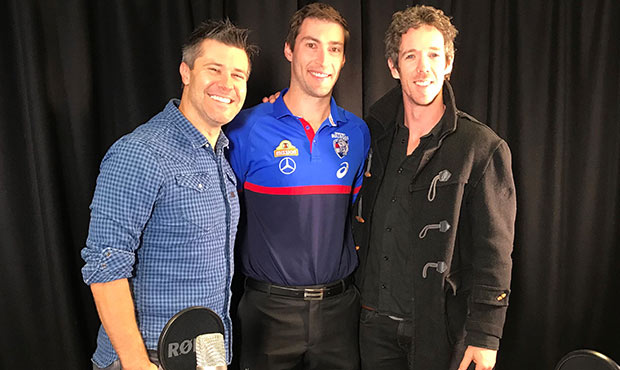 In episode eight of the Freedom in a Cage podcast, Bob and Adi are joined by Western Bulldogs General Manager of List and Recruiting Sam Power.
Show notes from Episode 8:
- Melbourne winters and how aging footballers would benefit playing in the warmer climates 00:45;
- 'The cage's' mention in Herald Sun and Jack Macrae's 47 touches 02:53;
- Adi finds a list of obscure AFL records including the most 'crumbs' and 'balks' 04:42;
- Do kids still practice the footy card balk? 05:31;
- The day Bob broke Gary Ablett Snr's record for high jump 07:34;
- Luke Dahlhaus's record for 'behind assists' and other obscure Bulldogs records 09:30;
- Bob's debut as a Fox Footy boundary rider 10:31;
- Adi's previous life as boundary rider assistant to Robert DiPierdomenico 13:00;
- The boys talk about Gary 'Whiskas' Hocking and whether Bob would have considered a name change 13:20.
- Sam Power joins the podcast and Adi once again tests his theory that list managers are high end footy card traders 16:36;
- Sam's trajectory from Bob's teammate, to law, to list manager 17:48;
- The best part of the job 20:02;
- Bob discusses the 'halo effect' and the theory that recruiters subconsciously recruit versions of themselves 20:54;
- The future of mid-season trades and live draft pick swaps 22:15;
- Bob offers his services after having watched Kevin Costner's 'Draft Day' and how 'Moneyball' has impacted AFL 26:29;
- The 'JFK' moment that was the coming of behind the goals footage for the modern player 30:06;
- The pathways for list managers and planning for life after football 31:35;
- His return to the Bulldogs and Bob asks Sam to explain his two nicknames 33:33;
- The boys then discuss Adi's many work experience gigs, including Channel 7 and the Ringwood Pools 37:28;
- Bob's work experience at Richmond and being tapped on the shoulder by Matthew Richardson 41:49;
- Adi tells a similar story about working at North Melbourne and crossing paths with Wayne Carey 43:15;
- Bob recalls stealing an old training football from Tigerland 45:47;
- The boys then continue their search for Ballarat's best pies 47:45.