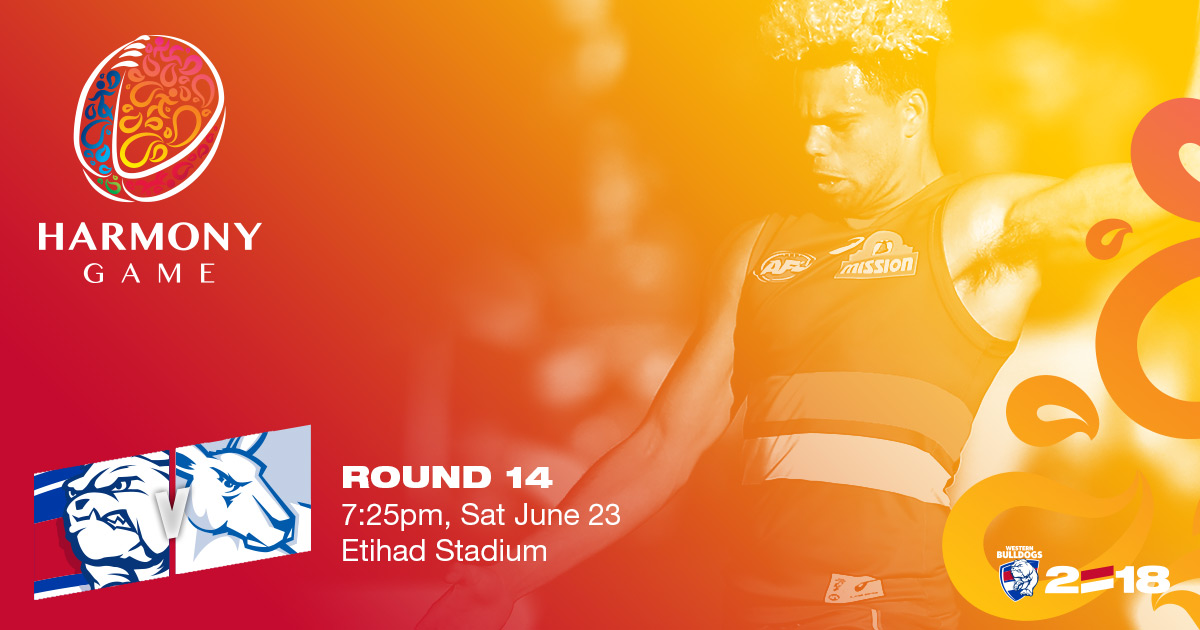 The Western Bulldogs and North Melbourne Football Clubs will join together to celebrate Australia's cultural diversity in the inaugural AFL Harmony Game this Saturday night.
The Bulldogs and Kangaroos have a long and proud history of embracing the multicultural community of the inner and western suburbs of Melbourne.
With the support of the AFL, the two clubs plan to make the Harmony Game a regular fixture when they play each season.
"The Harmony Game will be a fantastic celebration of our multicultural community and an opportunity to continue bringing our game to a new audience," said Bulldogs' CEO Ameet Bains.
"The Western Bulldogs Community Foundation does a wonderful job in working with the multicultural community through the western corridor of Melbourne and Victoria."
"In particular, the Club's social inclusion program Ready Settle Go has supported over 2000 newly arrived migrants and refugees by introducing them to Australian culture and values through sport, and promoting wellbeing and social connectedness."
"We would like to thank the North Melbourne Football Club and the AFL for its support in planning this themed match and look forward to collaborating with them as we continue to build this game into future years."
Pre-game entertainment for the Harmony Game will feature an official flag ceremony and multicultural music and entertainment.
"It's great that we can use our game to bring people, from different cultures and backgrounds, together under one roof," said North CEO & Managing Director Carl Dilena.
"At North Melbourne, we pride ourselves on social inclusion and progression, particularly through the work our not-for-profit community arm, The Huddle. It's fantastic to have the Harmony Game to celebrate and represent our many multicultural communities."
AFL General Manager Game Development Andrew Dillon said it was great to see the Western Bulldogs and the North Melbourne Football Club play a leading role in embracing and welcoming cultural diversity through the first Harmony Game.
"Both clubs, through their respective community programs, embrace cultural diversity at all levels of the game on and off the field," Mr. Dillon said.
"We need to credit their community programs which continue to play a key role in grassroots football, better reflecting the cultural diversity within our country."
The Bulldogs and North Melbourne will play in a VFL curtain raiser at Etihad Stadium at 3.20pm on Saturday, before the Harmony Game at 7.25pm. The flag ceremony will commence at approximately 6.50pm.
Tickets for the match are available at Ticketmaster, and fans are encouraged to use #HarmonyGame on social media.