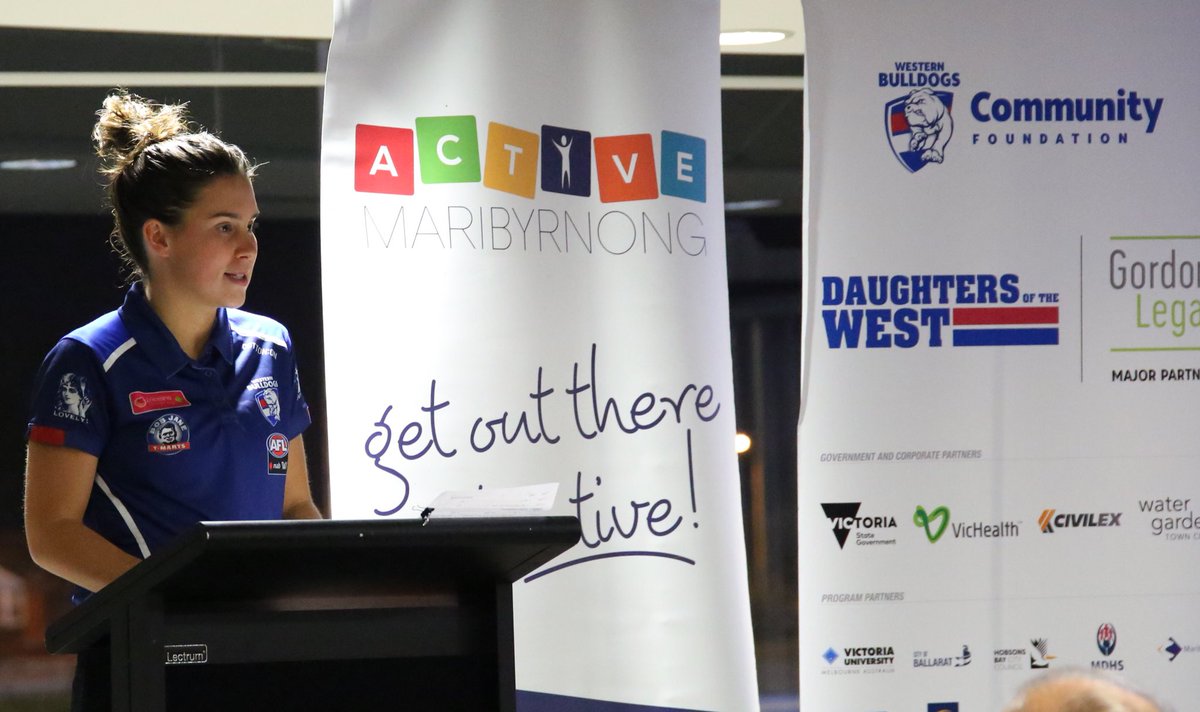 Western Bulldogs Community Foundation's Daughters of the West participants have celebrated their graduation from the 10-week program, this Wednesday evening at VU Whitten Oval.
After the second successive year of the women's health program, Maribyrnong based participants were invited to the Bulldogs' heartland to cap off their incredible three-month journey.
Hearing from Western Bulldogs CEO Ameet Bains, AFLW premiership player Libby Birch and Maribyrnong Mayor Cr Cuc Lam, participants celebrated their physical, social and mental health achievements gained during the program.
Western Bulldogs AFLW player and Daughters of the West ambassador Libby Birch told westernbulldogs.com.au that seeing the profound effects of the program firsthand, motivated her to continue her involvement with the Community Foundation.
"It's been amazing to meet so many incredible women who are taking time out of their busy lives to come and try to improve an aspect of their life," said Birch.
"You only have to hear some of the stories and some of the things that the ladies (through Daughters of the West), and the men through Sons of the West have developed through these programs, that show how important they are and what a difference they make."
"I'm really proud of the Club and what we do in the community."
After supporting the program for a second year straight, Jenny Forti said that major partner Gordon Legal are incredibly proud to be a part of the life changing program.
"For us at Gordon Legal, the work that we do is very much revolved around supporting the community and helping people. We stand beside ordinary people, so to be able to help members of our community is really important to us," Forti told westernbulldogs.com.au.
"I think it speaks for itself, going from the pilot program and having four sites, to eight sites (in 2018), clearly it's been well embraced by the community, clearly there was a need."
"I don't think it's overstating it to say that the program is life changing and we're very proud to be associated with something that is changing people's lives."
The Western Bulldogs Community Foundation will hold seven graduation ceremonies across the next two weeks to congratulate this year's participants on their health journey.
For more information about Daughters of the West, click here.