NICOLA Barr is set to become the No.1 pick in the inaugural 2016 NAB AFL Women's Draft on Wednesday, with Greater Western Sydney expected to select the on-the-rise Sydney product.
Barr, 20, who started playing football three years ago, won the 2016 Mostyn Medal – AFL Sydney Women's Premier division best and fairest medal. The 168cm midfielder also won the 2015 AFL Sydney Women's Rising Star award.
• Watch the draft LIVE from 1pm AEDT at AFL.com.au on desktop, tablet and mobile
Barr is regarded as an elite runner with plenty of speed when out in space. She is also a powerful and accurate kick.
Well-known names Aasta O'Connor and Steph Chiocci are also expected to be among the women in the mix to be selected in the first-round of the first ever Women's draft.
The eight clubs have already chosen two marquee players each and added players under rookie and priority selection rules. They will end the draft with 22 of their 25-player lists filled, and each will have until the end of October to sign three so-called free agents.
How the draft will work
The draft, which will run using a 'snake' format, will contain 145 picks. The selection order will be reversed in the second round and reverts to the same order as the first round for the third. That arrangement will continue until the completion of the lists.
The draft order from picks 1-8 is: GWS Giants, Brisbane Lions, Carlton, Fremantle, Western Bulldogs, Collingwood, Adelaide, Melbourne.
O'Connor, 29, a five-time All Australian from the Darebin Falcons, has long been considered the premier ruck in the women's competition.
Aasta O'Connor in action during the 2014 women's exhibition match. Picture: AFL Photos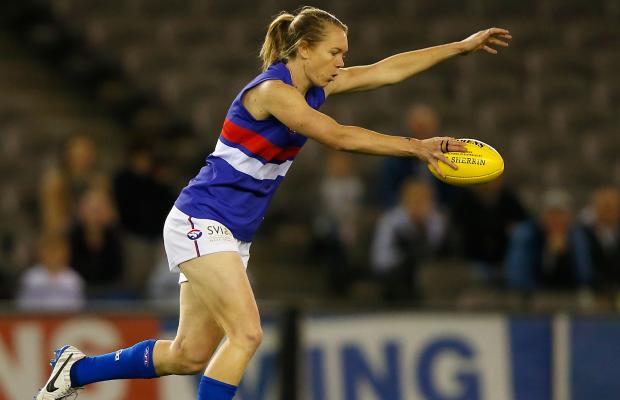 At 180cm, O'Connor is strong overhead and can even play in defence when required.
Chiocci, 27, is a genuine line breaker with burst away pace who captained the Western Bulldogs' side in 2013, 2014 and 2015. She is also a four-time All Australian.
Others in the frame to be among the top eight picks are former Surf Lifesaver Ebony Marinoff and ex-Basketballer Lauren Pearce.
The South Australian Marinoff has been earmarked as a player to watch after making the transition to football and dedicating herself to her new sport.
The 20-year-old thrives in contested situations and now, after committing herself to personal training sessions, has the running power to match.
Pearce, who tried her hand at the AFL Women's talent search earlier this year, has picked up the game quickly and has a knack for providing her team with scoreboard impact.
Others in the mix to be drafted in the first round include Victoria's Katherine Smith, 17, Elise O'Dea and Nicola Stevens.
The AFL received 1300 nominations for the draft.
2016 NAB AFL Women's Draft selection order
Round one
1. GWS Giants
2. Brisbane Lions
3. Carlton
4. Fremantle
5. Western Bulldogs
6. Collingwood
7. Adelaide
8. Melbourne
Clubs will have the following selections:
Adelaide – 18 Selections
7, 10, 23, 26, 39, 42, 55, 58, 71, 74, 87, 90, 103, 106, 119, 122, 134, 136
Brisbane Lions – 18 Selections
2, 15, 18, 31, 34, 47, 50, 63, 66, 79, 82, 95, 98, 111, 114, 127, 128, 141
Carlton – 19 Selections
3, 14, 19, 30, 35, 46, 51, 62, 67, 78, 83, 94, 99, 110, 115, 126, 129, 140, 142
Collingwood – 19 Selections
6, 11, 22, 27, 38, 43, 54, 59, 70, 75, 86, 91, 102, 107, 118, 123, 132, 137, 144
Fremantle – 18 Selections
4, 13, 20, 29, 36, 45, 52, 61, 68, 77, 84, 93, 100, 109, 116, 125, 130, 139
GWS Giants –15 Selections
1, 16, 17, 32, 33, 48, 49, 64, 65, 80, 81, 96, 97, 112, 113
Melbourne – 19 Selections
8, 9, 24, 25, 40, 41, 56, 57, 72, 73, 88, 89, 104, 105, 120, 121, 134, 145
Western Bulldogs – 19 Selections
5, 12, 21, 28, 37, 44, 53, 60, 69, 76, 85, 92, 101, 108, 117, 124, 131, 138, 143