VicHealth, Etihad Stadium and the Western Bulldogs are making it easier to find free drinking water on game day, with ten new water refill stations around the Club's home ground.
Bulldogs fans can bring their water bottles to Etihad Stadium and fill them up for free at any of the ten drinking water fountains located on all three levels of the stadium.

Fresh tap water is good for your health and your hip pocket. It's free to refill a water bottle at Etihad Stadium, so you have nothing to lose and everything to gain.
This partnership enhances the existing relationship between VicHealth and the Club through its flagship 'Sons of the West' Men's Health Program.
The Western Bulldogs encourage all attendees at our remaining Etihad Stadium games for 2016 to visit the fountains and make sure you fill up your bottle with the FREE drinking water.
Please find below a map of where the new drinking fountains can be found at Etihad Stadium.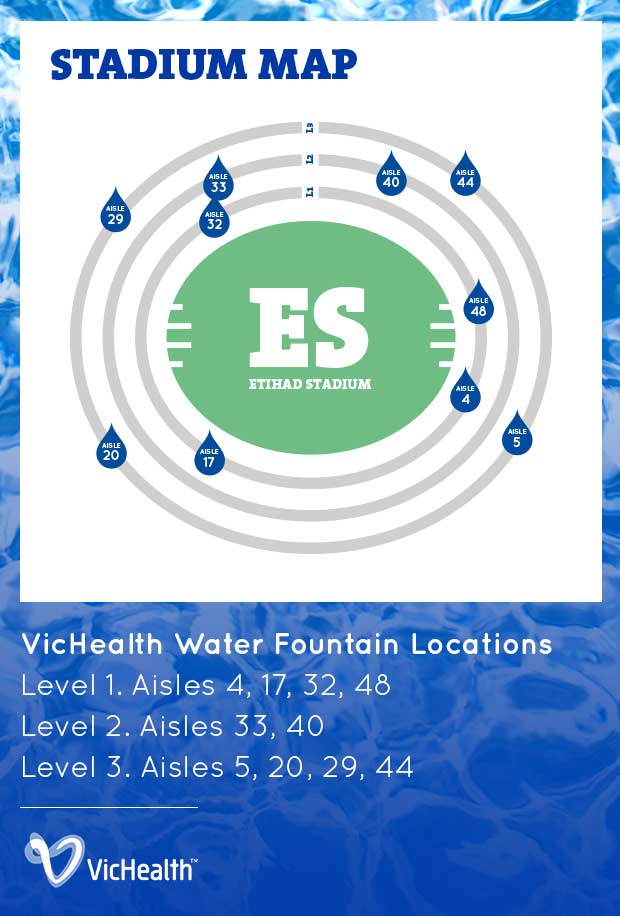 Why is water the best drink for my health?
- Water is the winning choice every time. Tap water is practically free, always handy, and helps keep your teeth healthy.
- Your body relies on water to keep it hydrated and performing at its peak. Dehydration may appear in subtler ways that can go unnoticed – you might feel tired, thirsty, weak and find it difficult to concentrate, have a dry mouth, a headache or darker coloured urine. Visit the Kidney Health Australia website for more information on dehydration.
- The general guide for recommended total fluids per day is about 8 cups* for women (9 cups in pregnancy and lactation) and about 10 cups for men. It is preferable to meet most fluid needs by drinking plain water.

Water requirements may increase in hot climates and with increased levels of physical activity.
*one cup = 250mL