Senior player: 1974–83
Guernsey number: 25
Height: 178 cm
Playing weight: 76 kg
Captain: 1979, 1980, 1981
Senior games: 137
Goals: 136
Finals: 2 (1974 elimination final, 1976 elimination final)
Interstate selection: 1977, 1978, 1979
Night games: 5
Night goals: 6
Recruited from: Traralgon
Geoff Jennings was recruited to Footscray in 1974 from Traralgon, in the LaTrobe Valley where many notable players (including Bernie Quinlan and Kelvin Templeton) were recruited. Geoff's career at Footscray began at the same time as that of Templeton, Terry Wheeler, and Ted Whitten Jnr and, despite suffering a serious shoulder injury after only seven games and requiring reconstructive surgery, he recovered to play in the elimination final in his first season (1974). He also played in Footscray's elimination final side in 1976.
A classy rover, Geoff was selected in the Victorian state sides of 1977, 1978 and 1979, and was captain of the Footscray side from 1979 to 1981 – the youngest captain in the VFL at the time of his appointment.
After recurring injuries led him to retire as a player, at the age of 28 at the end of the 1983 season, Geoff became coach of the Footscray reserves for the 1985 season (the year the senior side made it to a preliminary final under coach Mick Malthouse).
In 1986, Geoff's role changed to that of hosting the matchday functions for sponsors in the Footscray social club and, in 1987, he shifted to Queensland where he still lives today.
Soon after moving to Queensland, Geoff became coach of the Wilston Grange Gorillas in the Queensland Football League (QFL). In 1990, Wilston Grange amalgamated with Kedron Football Club to become Kedron Grange and Geoff continued to coach the amalgamated team for another couple of years before taking a year off. After that year out of football, he began coaching Mt Gravatt who had approached him to assist them to be promoted to the top division. It only took a couple of months for Mt Gravatt to be told they were to be promoted. In the first game they played, Geoff's Mt Gravatt team were beaten by 200 points but they ended up winning six games for the season. In one game, under lights, Mt Gravatt came within 10 points of a Southport side which included Warwick Capper [Sydney Swans and Brisbane Bears/Lions]. Geoff coached Mt Gravatt for four years – taking the team to the semi-final in his second year and to two grand finals in the years following.
All but ready to give coaching away, Geoff was approached by the Western Magpies (formerly the Sherwood Football Club) who were attempting to make it into the top division of the Queensland State League. Accepting the position of coach, Geoff was successful in taking the Western Magpies into the top division. In his time as a coach, Geoff also coached Queensland State sides for five years. These teams included some Brisbane Bears VFL/AFL players.
When he was a boy, Geoff's dreams had always been to play football and to become a teacher. He considers himself fortunate to have lived both these dreams, becoming a physical education teacher who still enjoys teaching, and having played a total of 137 games of VFL/AFL football. He considers himself particularly fortunate when he recalls the brilliant players who didn't make it at senior level or whose careers were cut short by injury.
Geoff is still an ardent Bulldogs supporter but, nowadays, just watches footy on television (admitting he hasn't seen a live game in a while) and plays a bit of golf. He says that football, was a great experience for him – with the friendships he made being what was best about it.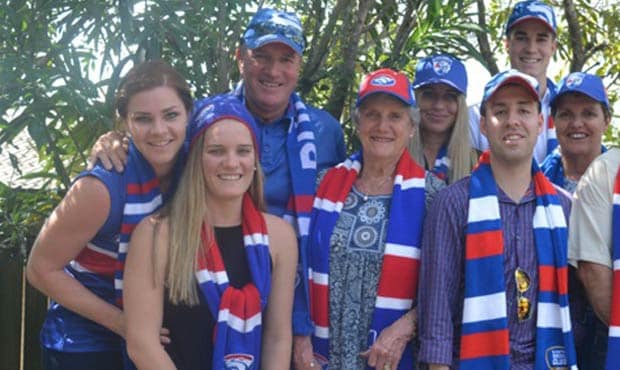 Above: Geoff Jennings (centre) pictured recently with his Bulldogs supporting family in Queensland.
Similar stories of past Footscray/Western Bulldogs players appear in The Bulldog Heritage and The Bulldog Heritage: Volume 2 (published by the Western Bulldogs Forever Foundation) both available from the Bulldogs Shop at Whitten Oval for $69.95.