Senior player: 1991–93
Guernsey number: 25
Height: 188 cm
Playing weight: 79 kg
Senior games: 32
Goals: 5
Finals: 3 (1992 qualifying, first semi and preliminary finals)
Interstate selection: 1990 (Tasmania)
Night games: 4
Recruited from: Glenorchy, Tasmania
Matt Mansfield was selected by Footscray at pick 19 in what is recognised as the first National Draft, in 1986. He arrived at Footscray in 1987, but didn't see out the season, returning to Tasmania to play for his former club Glenorchy in 1987–88.
When Matt returned to Footscray in 1989, he suffered a broken ankle in the pre-season and was out injured for the year. He recovered to play the entire season in the Footscray reserves in 1990.
In a 1991 pre-season game, Matt was suspended for three weeks for striking and, after serving his suspension, returned to play in the reserves for most of the season – but did play the last five games of the season in the seniors.
Matt's almost perennial pre-season bad luck struck again in 1992 when he sustained a broken arm. But the 1992 home-and-away season did prove to be his most consistent and injury free, when he played 19 games (including three finals), mainly on the half-back line. He also played a further eight games in 1993, but injury struck again when he broke his hand in a game against Collingwood.
When Matt's contract was not renewed by Footscray for 1994, he was drafted by Fitzroy but decided to return to Tasmania and the Glenorchy Football Club. He played for Glenorchy in 1994–95, winning the best and fairest and the Mercury Player of the Year Award, and receiving the 'most votes in the League' in the William Leitch Medal (but was ineligible for the award because of a reprimand for wrestling).
Melbourne Football Club expressed interest in Matt in 1995, but the deal was never done. Instead he played finals with Werribee in 1996 and won Werribee's best and fairest. He also represented the VFL against Tasmania.
In 1997–98, Matt was playing coach of Leongatha Football Club (premiers in 1997, and runner-up in 1998). He spent 1999 as an assistant coach at Coburg in the VFL, and then returned to Leongatha, where he won the best and fairest (2000) and Leongatha won the premiership (2001). In 2000, he was also honoured to be selected as a member of the Glenorchy Football Club Team of the Century.
Matt was employed as national sales manager (Australia and New Zealand) by Sanyo for a time. After this, in 2003, he was living in Canberra, working for Samsung and was playing assistant coach of Belconnen Football Club, the premiership side. He spent 2004 as non-playing coach of Eastlake (Canberra) and, at the end of 2004, he and his family moved back to Melbourne.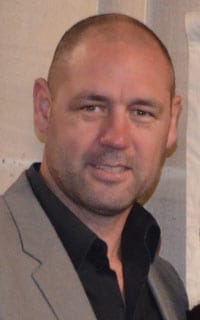 Matt had a total of 19 operations throughout his career and it is fair to say that injuries did prevent him making the most of his football opportunities. A strained knee, suffered while playing in the grand final for Belconnen, led him to finally hang up his boots.
On his return to Melbourne, Matt began employment with the SolutionsWon Group as construction and project manager and then, in 2010, he accepted a role with TJS Services as national project manager in their construction division. Since his football career Matt has completed the building apprenticeship he started in the late 1980s, gained his commercial building licence and started his own business, Replica Fitouts Pty Ltd, in 2012. In his spare time, Matt coaches an underage football team and enjoys scuba diving and motor bikes.
This is a summary version of the Matthew Mansfield story appearing, with stories of other past players, in The Bulldog Heritage: Volume 2 (published by the Western Bulldogs Forever Foundation in 2014) available from the Bulldogs Shop at Whitten Oval for $69.95.