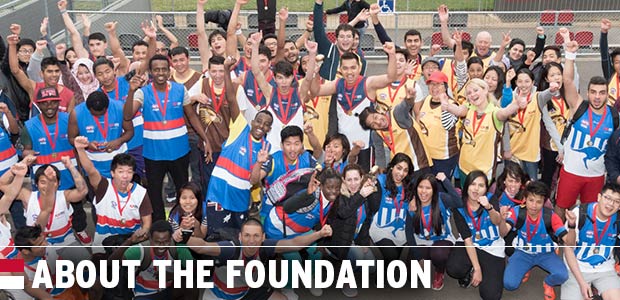 The Western Bulldogs Community Foundation is the community services arm of the Western Bulldogs Football Club. It is registered as a PBI (Public Benevolent Institution) with DGR (Deductible Gifts Recipient) status and has its own Board.
Western Bulldogs Football Club has a long and proud history of being the Community Club of the AFL. The mission of our football club is to be the community where people are at their best. The club has a role in supporting people to be their true selves and that people will be accepted regardless of their gender race or faith. This is a mission that goes beyond the code and at the core of why the Western Bulldogs Community Foundation was set up to ensure the community work of the Western Bulldogs remains ongoing and sustainable.
SpiritWest Foundation Limited trading as the Western Bulldogs Community Foundation was incorporated on 27 September 2012. Since the date of incorporation the Foundation remained dormant until 2015. The year ended 31 October 2016 was the first full year of operations in which the Foundation ran its own programs.
The Foundation works closely with the club and utilises the Western Bulldogs brand as a powerful platform to engage a wide range of participants to positively influence their lives. This brand gives us an ability to reach a wide cross-section of community members who may be hard to engage otherwise. In addition to the foundation's services the club continues to deliver a number of community engagement initiatives such as Grassroots football programs, schools programs and community camps through the club's fan development team.
The foundation works in partnership with government, corporate and community agencies to deliver services and programs that endeavour to improve social capital and the quality of life of people living in the Melbourne's West through to regional western Victoria.
A thriving community where everyone matters,
And anyone can play a part in building a better world.
We inspire and support community members to unite and take the lead in solving their challenges.
The Western Bulldogs Community Foundation works with the community for the community and delivers services to over 5000 people across four streams annually:
- Health and Wellbeing - Our health and wellbeing stream aims to address some of the predominant health concerns through the development of facilitated health pathways, co-branded health networks and co-designed health and wellbeing programs. 4000 men impacted through our Sons of the West health and wellbeing program since it began in 2014.
- Social Inclusion - Our Refugee Settlement Services assists migrants in Western Melbourne to integrate successfully into the broader community. Over the past nine years, our settlement programs program has helped more than 18,000 refugees and their families settle in Melbourne
- Youth Leadership & development - Our youth Leadership & development programs provide young people with hands on opportunities to contribute and grow as leaders in their chosen field. More than 250 young social leaders developed through our youth leadership programs since 2013.
- Community Advocacy - We facilitate and promote community harmony through our work with all disadvantaged communities. We believe in, stand for, and work to promote community harmony.
While the Western Bulldogs Community Foundation continues to serve the community across the above-mentioned 4 streams, the club's commitment to the community extends beyond the scope of the foundation. The club continues to deliver a number of community engagement initiatives such as Grassroots football programs, schools programs and community camps through our fan development team.
Western Bulldogs Community Foundation is committed to fostering, cultivating and preserving a culture of diversity and inclusion. We are striving to further increase multicultural, Indigenous, and All Abilities involvement across our programs. Our services and programs welcome all participants regardless of language, sexual orientation, culture, ethnicity, religion, health or disability or socioeconomic background.
"We acknowledge that we are on traditional lands of the Kulin nation. We offer our respect to the Elders of these traditional lands, and through them to all Aboriginal and Torres Strait Islander peoples past and present." - Acknowledgement of Country
Our club is committed to the safety and wellbeing of all children and young people. We want children to be safe, happy and empowered. We work to listen, empower, support and respect all children and young people, as well as our employees, contractors and volunteers.
We have zero tolerance of child abuse, and all allegations and safety concerns will be treated very seriously and consistently. We are committed to preventing child abuse and identifying risks early, and removing and reducing these risks.
We have legal and moral obligations to contact authorities when we are worried about a child's safety, which we follow rigorously.
Our club has robust human resources and recruitment practices for all employees, contractors and volunteers. We committed to training and educating our employees and volunteers on child abuse risks.
We promote diversity and tolerance in our club, and people from all walks of life and cultural backgrounds are welcome. We are committed to promoting cultural safety for Aboriginal children, cultural safety for children from culturally and/or linguistically diverse backgrounds, and to providing a safe environment for children with a disability.